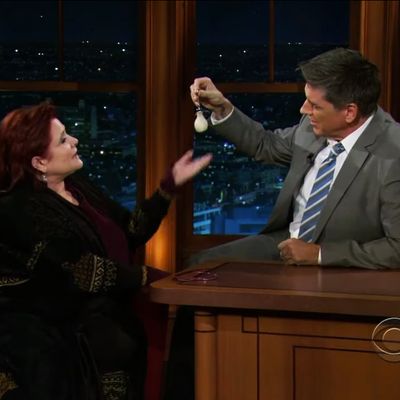 Carrie Fisher's vaunted press tour for The Force Awakens was indeed a gold mine for anyone following along, but if you really want to see the icon at her talk-show best, immerse yourself in her many visits to The Late Late Show With Craig Ferguson. Every interview felt like you were watching a pair of former flames who knew it could never work between them, but who loved each other regardless and stayed close friends. Fisher and Ferguson had a shared language as two people in recovery for substance abuse, and together they were both good-natured entertainers with ribald, self-effacing sensibilities. They kept running jokes about penises, breast reductions, Fisher's obligation to embarrass her daughter at every turn, her mental health, euphemisms, and more that spanned across her visits to the program.
Over the years, Fisher would bring Ferguson gifts from her trips around the world, their hugs became more frequent and more enthusiastic, and she would lean in closely against his desk as they exchanged banter soaked in gallows humor. Fisher didn't just look comfortable with herself around Ferguson, she looked comfortable with him, and the two brought out the best in each other by being honest, inappropriate, affectionate, and just damn funny together. Below, a look back at Fisher's appearances, and her friendship with Ferguson.
December 12, 2008
Only a Carrie Fisher interview would go from a story about attending church with her mom Debbie Reynolds and Richard Nixon before transitioning into her "very amusing," "pleasant and fun" experiences with electroconvulsive therapy.
December 7, 2010
Never one to leave a topic untouched, Fisher opened her interview in 2010 by talking about her weight and saying, "As you get older the pickings get slimmer but the people sure don't." She also brought Craig a kangaroo scrotum from Australia, which led to a few quips about scrotal harvesting before segueing into a conversation about her time spent under care at a mental-health facility. At one point Fisher and Ferguson started talking about celebrity and she asked him, "We like ourselves better 'cause we're on TV, don't we? No, that's wrong."
January 3, 2012
As soon as Carrie Fisher sat down on the couch with Ferguson for this visit, she started asking for the specifics of his bout of shingles and asked the audience, "Who here is wondering if he had them on his ball sack?" Then she tried to pin a brooch on the zipper of his slacks, and shared a tremendous awkward pause with him at the end of their segment.
May 31, 2012
Fisher had more presents for Ferguson during her 2012 visit, one of which was a dancing robot mushroom that she screamed at and demanded entertain her host. She also called her breasts "the new black," quizzed Ferguson on his past drug use, joked about bras for testicles, and asked about the vibrational qualities of Chelsea Handler.
January 18, 2013
One of Fisher's greatest assets was her ability to be brutally honest while bringing levity to the topic of mental health. This interview finds her and Ferguson talking about bipolar disorder, family vacations, what sorts of people the mafia target for killings, and has Fisher offering this piece of puzzle-box wisdom: "I'm a mature crazy person. Maturity is a sort of stoic response to an endless reality, and you know how stoic I am."
December 8, 2014
This time out, Fisher dramatically danced her way onto the set, kicked off her shoes, and greeted Ferguson with fertility tokens from Myanmar. She also got introspective with the host when she said she didn't publicly stop playing the part of Leia even after taking a hiatus from the role for decades, but then livened up the room again by trying to determine the plural for "penises."