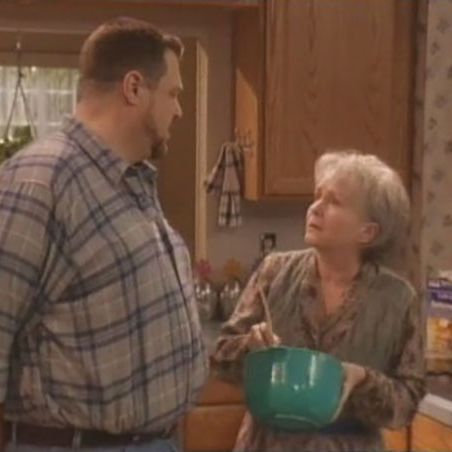 John Goodman and Debbie Reynolds in "Arsenic and Old Mom."
In her novel Postcards From the Edge, Carrie Fisher famously wrote that "instant gratification takes too long," but reenacting and celebrating the semi-dysfunctional relationship she had with her mother, Debbie Reynolds, was a writerly indulgence Fisher enjoyed time and again. In fact, just a few years after Fisher officially launched her screenwriting career with the 1990 film adaptation of Postcards, she penned a part for Reynolds in the penultimate episode of Roseanne.
"Arsenic and Old Mom," Fisher's sole sitcom credit as a writer, found Reynolds playing Dan Conner's mother, Audrey, a character who appeared once before in a second-season Thanksgiving episode (when she was played by character actress Ann Wedgeworth). Because "Arsenic" took place in the bizarro dreamworld of Roseanne's final season — and because Fisher, as always, opted to mine her mental-health struggles for some dark-side humor — Audrey morphed from a Blanche Devereaux–esque divorcée into a recently discharged psych-ward patient, hellbent on committing filicide after she goes off her meds.
The episode makes for the perfect combo of Fisher's world-weary wit and Reynolds's maternal-guilt-trip song and dance. (I mean that literally — she even sings a few bars of "Danny Boy.") In light of their tragic deaths, the gags in "Arsenic" also take on a newly evocative relevance. "Do you remember when I used to bring you out to the parties to do the twist?" Audrey asks Dan, echoing what could've been an exact line from the mother-daughter reminiscences in Postcards. "One time, you threw up on your father's boss." Later, when Roseanne tells Audrey that Dan thinks she's trying to kill him, Reynolds replies with her trademark sweetness-and-light delivery: "Oh, no dear, no; I'm not going to kill him. I'm going to bury him alive … I'm very excited about burying him alive."
Being a part of showbiz royalty led Fisher to blur the lines between acting and writing, so it's no surprise that she even threw a Star Wars bit into the episode, after D.J. Conner goes to see Return of the Jedi with girlfriend Heather. (Fun fact: His girlfriend is played by The Princess Diaries' Heather Matarazzo.) When Audrey asks D.J. what makes Jedi better than the rest of the Star Wars trilogy, his answer is classic Fisher: "Well, you know, advancements in special effects and sound quality — and a whole lot of scenes with Princess Leia in a bikini."
"Arsenic and Old Mom" is available on Amazon for $1.99, or you can try a bootleg version on YouTube. LOGO will also air the episode this weekend during its Debbie Reynolds marathon.