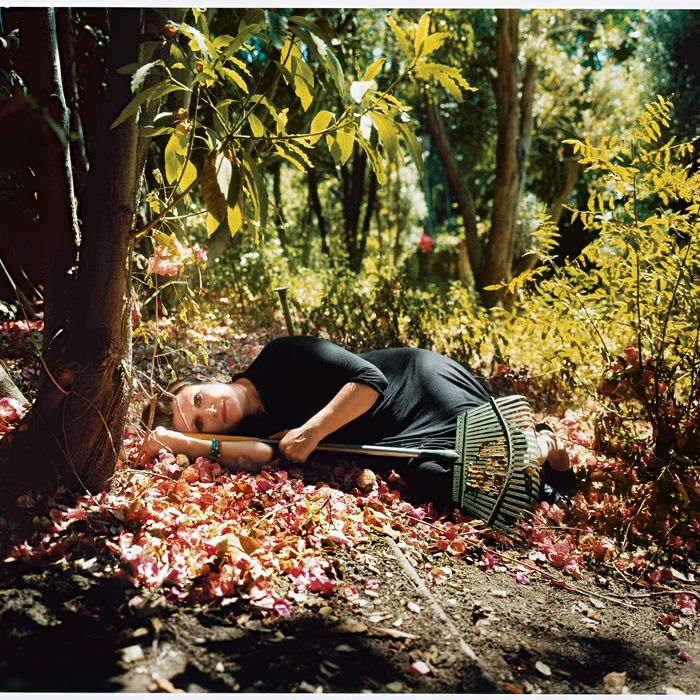 Photo: Tierney Gearon. Hair and makeup by Lucy Halperin for Nars at MargaretMaldonado.com
This story was originally published by New York magazine on September 25, 2009.
Carrie Fisher's house, which is in the Coldwater Canyon section of Beverly Hills, California, is nearly as pedigreed as Fisher herself. Bette Davis lived here first, and then Edith Head. Head was a well-known costume designer whose best friend was Elizabeth Taylor, so Taylor would sleep in a small guest room upstairs whenever she was going through a divorce. Which was a lot. She may have even stayed there when she was divorcing Carrie Fisher's father, Eddie Fisher. Now Taylor just comes for parties, stopping to point out to the other guests what is original, what is not.
The house is a lot like Carrie Fisher's larger universe: insular and Hollywood and riddled with fame. Also: It's really, really, really kitschy. There are tiles on the kitchen floor shaped and labeled like enormous tablets of Prozac, and there's a plastic deer wearing a plastic lei grazing on the lawn. There are toy airplanes and Chinese lanterns swinging from the roof of the veranda, which is hung with scary old anatomy posters and lit by Mona Lisa votive candles and decorated with pillows printed with the campaign slogans of Harvey Milk.
Fisher presides in skintight leggings and a tight purple turtleneck. She's eating a piece of string cheese by ripping it into dental-floss-size strips and slapping them in the direction of her mouth. She is, she says, on a diet. "You know how they say you're your own worst enemy? Well, you're not. Read what they say about you on the Internet if you look fat. I don't give a shit, by the way, but they say I look like Yoda." (Most recently, her physique was compared to Elton John's, so she took to her blog, where she responded by writing, "Blow my big bovine tiny dancer cock.")
It's early August, and Fisher is on a brief Los Angeles hiatus before arriving in New York for the Roundabout Theatre production of her one-woman show, Wishful Drinking, at Studio 54 (it opens October 4). The show — which also became a book — is about being famous, and about being manic depressive, and about being a drug addict. It's about her parents' failed marriage(s), and her own failed relationships, too, with Paul Simon and Hollywood superagent Bryan Lourd, and also about this one time she woke up to find her close friend dead in bed beside her, from an overdose. The happy ending of the story, if it really can be called that, is that she underwent electroshock therapy and now feels much, much better than she ever has before, even if she sometimes doesn't remember things that happened in the past few months. "But that could be all the acid I did," she says. "You do the math. But fuck the past four months anyway. Worth it!" Fisher likes to shout things for emphasis sometimes. "Totally. Fucking. Worth it!"
"I'm transparent about all this stuff because it's out there anyway," she says, sticking out her tongue like a frog to catch a flap of cheese, "and if it's going to be out there anyway, I want my version. It was out there that I was in a mental hospital, it was out there that I was in rehab, and it was always Carrie Fisher's Tragic Life."
Fisher's version of her life is not tragic. What it is is sarcastic, full of one-liners and an almost aggressive assertion that potentially painful episodes are more comic than anything else. There's her father leaving her mother (Debbie Reynolds) for their best friend Elizabeth Taylor after Taylor's husband Mike Todd died in a plane crash, about which she writes: "He first dried her eyes with his handkerchief, then he consoled her with flowers, and he ultimately consoled her with his penis." Regarding Bryan Lourd's leaving her for a man, she writes, "Turning people gay is kind of a superpower of mine. It's not called upon a lot, but when it is, I pick up my little pink phone, I put on my rainbow-colored cape, and I'm there like a shot!" She also shares the birth announcement she sent out seventeen years ago when her daughter, Billie Lourd, was born: "Someone's summered in my stomach. Someone's fallen through my legs. To make an infant omelette, simply scramble sperm and eggs."
"Like Woody Allen said, comedy is tragedy plus time," Fisher says, and then she pauses, "but mental illness was pretty funny right away. Like I was in the hospital with a woman — fantastic chick, suicide person — who called her shrink and said, 'I'm going to commit suicide,' and he said, 'You said you would call me first,' and she said, 'I did,' and then she shot herself."
Fisher leans over in her seat. "It's funny," she growls.
What's most interesting about Fisher, and, by extension, her show, is not what she has to say about addiction, which there are many people qualified to discuss, or even mental illness. She is, largely, vague on these topics. She doesn't describe the low points of her disease, how it felt to be manic or how it felt to be addicted. What she does describe, in great detail, is just how super-weird it is to be herself. And how it feels to be Princess Leia, because that's incredibly weird, too.
For Fisher, Hollywood was not the shimmering city on the hill reached by bus from midwestern obscurity. It's a default setting. It's home. Nor has the place permanently soured her on her childhood. She likes her parents, even her disinterested and disengaged pothead father, whom she supports in an assisted-living facility in San Francisco. ("There's a really big Chinatown there," she explains. Eddie Fisher's taste in women post–Elizabeth Taylor tended in that direction.) She lives next door to her mother. Fisher's whole vocabulary is one of fame. Ask her if her brother is still a born-again Christian (which is how she describes him in her book) and she says, "Well, I fixed him up with Beverly D'Angelo, and you can't be born-again and date Beverly." Ask her about her early New York years, and you'll learn that her roommates were Griffin Dunne and Teri Garr. Her former assistant drops by to show off her new baby; Chad Lowe is the dad.
"My shrink said if you worked in a supermarket they would've institutionalized you at 20. But because I come from Hollywood there's so much that's considered okay. You're just allowed to do anything and you're supposed to be unusual and so much is tolerated that probably shouldn't be. I was so fun! I had such a great personality! Cut to: I'm stoned on the floor. Cut to: Uh-oh."
In a way, Fisher is the Proust of celebrity-revelation culture; her musings operate on a higher plane than Courtney Love's tweets or Kanye West's blog posts. Even "Blow my big bovine tiny dancer cock" has a kind of poetry to it. As such, she's perhaps entitled to feel a little depressed by what celebrity has become. Like many others, she can't quite believe that Kate and Jon (whom she calls "Kate and Allie") and their eight children are what now show up on the cover of People magazine, but coming from her, the observation seems freshly poignant somehow. She always knew this day would arrive. "When I was just becoming conscious — around 13 — is when my parents' careers began to fade," she tells me. "And I saw what it did to them. Celebrity is just obscurity biding its time."
And this is why, she says, that she's still holding some things back. When I mention that we never get the full story of her illness or addiction, she responds, "If you feel there's some part of me you're not getting, then that means that something's sacred."
A great deal of it, though, is just for her next book. Which she's already begun to write.