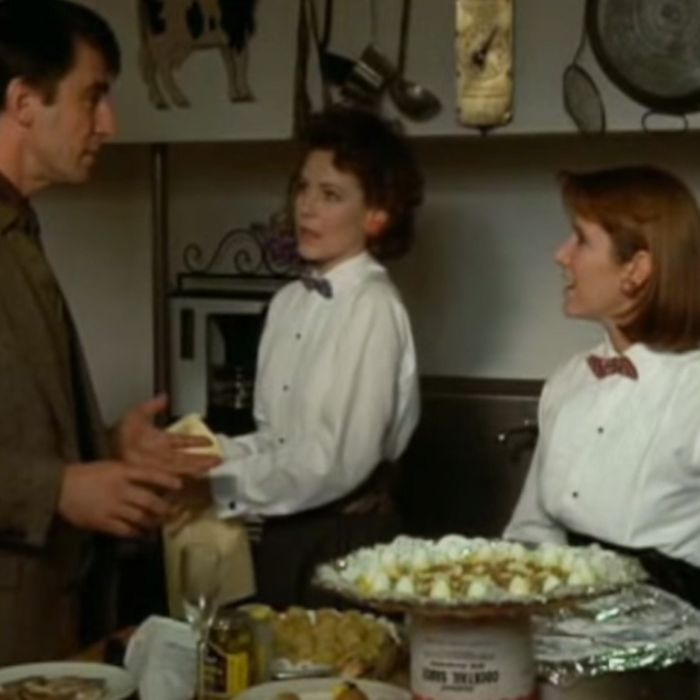 Carrie Fisher, far right, as Alice in Woody Allen's Hannah and Her Sisters (1986)
While Carrie Fisher's biggest role as an actor by far was her long-running portrayal of Princess Leia Organa, she also had a healthy career outside the hair buns. Besides becoming one of Hollywood's most prolific script doctors, she acted for directors like Woody Allen, Warren Beatty, and David Cronenberg, and also put in some good work on the small screen. Here are some of her best parts among some 90 credits to her name, spread out over more than 40 years.
Shampoo (1975)
Almost two years before she played Leia, Fisher had her first film role in this Warren Beatty gem, and the two-scene part is a perfect introduction to Fisher as an actress and woman: As her character complains about the long shadow cast by her mother, she's forthright, verbally dexterous, and unabashed about her appetites, just like Fisher herself. —Kyle Buchanan
Available to rent on: Amazon, YouTube, Vudu, Google Play.
The Blues Brothers (1980)
In the credits of The Blues Brothers, Fisher is referred to as "Mystery Woman," and she certainly makes an impression: Holding an M-16 against her hip, she tells the story of how Jake Blues, played by John Belushi, left her at the altar on their wedding day. If anything marks Fisher as a great actor, it's the fire in her eyes and the half-grin on her face as she says, "I must now kill you — and your brother." —Kevin Lincoln

Available to rent on: Amazon, YouTube, iTunes, Vudu, Google Play.
Hannah and Her Sisters (1986)
As a part of one of Woody Allen's best-ever casts — alongside legends like Mia Farrow, Michael Caine, and even Max von Sydow — Fisher plays April, who starts a catering business with one of the sisters, Holly, and then ends up her opponent in both love (romancing Sam Waterston) and work (they both go out for the same part). Fisher shines in Allen's emotionally freewheeling New York City, and her subtle interplay with Dianne Wiest's Holly — "If we took Fifth, then we'd get to your house first…" — is classic. —KL

Available with a subscription and to rent on Amazon.
When Harry Met Sally … (1989)
In the golden age of rom-coms, no one understood being single in New York City better than Carrie Fisher in When Harry Met Sally. As Meg Ryan's best friend, Marie, Fisher stole scene after scene as the single New Yorker dating a married man (and eventually marrying Harry's best friend, Jess). Fisher was more than the galaxy-defending Princess Leia: She was the acerbic queen of '80s rom-coms. —Hunter Harris
Available with a subscription on Hulu; to rent on: Amazon, iTunes.
Drop Dead Fred (1991)
Unless you have a nostalgic appreciation for it, Drop Dead Fred is just a bad movie lost to time, but it's worth revisiting to see the typically dry Fisher at a frantic, high-anxiety pitch. She plays the best friend of the movie's protagonist — a Fisher special — and shows off her adeptness at physical comedy by both pantomiming the choking death of an imaginary man, and putting on the most exhilarating demonstration of casual speed-walking ever captured in a movie. —Jordan Crucchiola
Available to rent on: Amazon, YouTube, iTunes, Vudu, Google Play.
Austin Powers: International Man of Mystery (1997)
In Austin Powers, Fisher plays a group therapist trying to get to the heart of the relationship between Dr. Evil and his son, Scott — and steering into the movie's running joke of a guy like this actually existing in the real world. As usual, Fisher commits fully to the part, teeing up one of the film's best scenes: Dr. Evil's monologue about his childhood. —KL
Available to rent on: iTunes, YouTube, Google Play, Amazon.
Scream 3 (2000)
"Hey, are you …" "No." In Scream 3, Fisher plays Bianca Burnette, who looks just like Carrie Fisher, and was up for the role of Princess Leia, but lost it to the actress who "sleeps with George Lucas." A subtle play on Fisher's real-life persona, it's a terrific example of the actor's sharp, unsparing sense of humor, which she was more than happy to direct at herself. —KL
Available with a subscription on Cinemax; to rent on: YouTube, Amazon, iTunes, Vudu, Google Play.
Sex and the City (2000)
Speaking of which: In an episode of Sex and the City, Fisher does away with any role at all, appearing as herself in order to fire her assistant, played by Vince Vaughn, for sleeping with Sarah Jessica Parker's also-Carrie in her apartment. It's two great Carries in one scene, a fact that Bradshaw tries to connect with Fisher over until the One True Carrie delivers this withering put-down: "I have a child … I really can't do this." —KL
Available with a subscription on HBO; to rent on: YouTube, Amazon, iTunes, Vudu, Google Play.
30 Rock (2007)
Like all the best 30 Rock episodes, "Rosemary's Baby" mixed absurd character work with cutting satire, the comedy equivalent of slapped with a fish and shivved at the same time. Carrie Fisher showed off her mastery of both sides of that formula in her role as Liz Lemon's idol, a trailblazing '70s sketch writer named Rosemary Howard whose uncompromising values lead Liz to quit her job rather than cow to NBC's corporate demands. Soon enough, Rosemary is revealed to be a Thermos-toting wino who lives in Little Chechnya and a sharply drawn caricature of what Liz fears she might become, plummeting from eccentric legend to unhinged drunk as she draws Liz deeper and deeper into her life. All that, plus Fisher was game enough to allow a wonderfully goofy Star Wars shout-out? What more could you want? —Chris Heller
Available with a subscription on Netflix; to rent on: Amazon, iTunes, YouTube, Vudu, Google Play.

Maps to the Stars (2014)
Maps to the Stars was director David Cronenberg's dark, disturbing comment on Hollywood and celebrity culture, so who better to cast as the seen-it-all Hollywood veteran opposite Julianne Moore's broken, aging starlet than Fisher playing herself? The two bump into each other at a restaurant and Moore asks Fisher how she's doing, prompting Fisher to respond with, "When I get in touch with myself I'll let you know." Of all the facets of Fisher we have seen, new-agey, semi-fictional Fisher might be the most discomfiting. —JC
Available to rent on: Amazon, iTunes, YouTube, Vudu, Google Play.

Catastrophe (2015)
In Catastrophe, Fisher had a recurring role as the unpleasant, unfailingly honest mother of Rob Delaney's character, Rob. "You were giving an award at the Attitude Awards in London and you did this great speech, and Rob and I were in the audience," Horgan said once, in a talk moderated by Vulture, on why she wanted Fisher for the part. "I turned to Rob, and I went, That's your awful mother!" "I did really want to play an awful person," Fisher said. Luckily for all of us, she sure got her wish. —KL
Available with a subscription on Amazon.