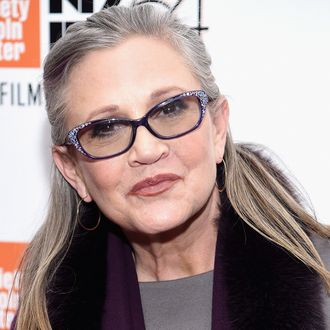 Photo: Dimitrios Kambouris/Getty Images
According to TMZ, 60-year-old Carrie Fisher experienced a heart attack on plane bound for Los Angeles this afternoon, and airport police confirmed to The Hollywood Reporter that "units were responding to someone with a medical emergency on a plane." Officer Alicia Hernandez could not confirm the identity of the person at the time, but the Los Angeles Times is now reporting that Fisher was rushed to the hospital by Los Angeles Fire Department paramedics after experiencing a "cardiac episode" on a flight from London to L.A. The Times initially listed the actress in "critical condition." THR and the Associated Press later reported that she was in "stable condition" around 4 pm P.T., per reports from the actress's brother Todd Fisher. However, Fisher subsequently told Variety in a phone interview that those earlier reports were due to media "writing between the lines." "She's in the ICU and everybody's praying for her," he told Variety. TMZ also reports that Fisher's beloved service dog, Gary Fisher, as well as her daughter, Billie Lourd, have been by her side at UCLA Medical Center. Eyewitnesses say Gary was aboard the flight when Fisher suffered her heart attack.
Passengers who were apparently on the same flight as Fisher tweeted information about the incident.
Demonstrations of support for the actress have already begun pouring in online, like these tweets from William Shatner and a pair of her Star Wars castmates.
This is a breaking news post. We will update it as more information becomes available.