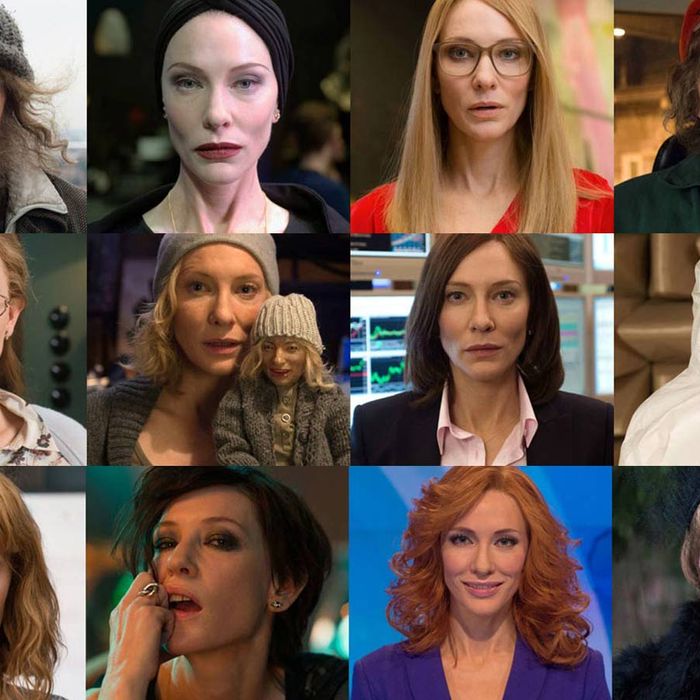 A selection of the characters Blanchett plays in Manifesto.
Photo: Julian Rosefeldt and VG Bild Kunst
If you need more proof that Cate Blanchett is one of Hollywood's greatest treasures, make a beeline for New York's Park Avenue Armory, where German artist and filmmaker Julian Rosefeldt's Manifesto is on display until January 8. Over 12 giant movie screens playing ten-and-a-half-minute films simultaneously in the cavernous hall, Blanchett plays 13 characters, including a homeless man, a schoolteacher, a Mob widow, and a news anchor interviewing a weather reporter (she is also the reporter), all of whom are delivering some form of art manifesto. There's also one screen showing a burning fuse, over which the actress reads a mishmash prologue including Karl Marx's Communist Manifesto. You can stand at certain spots in the room and see at least eight Cates at once. It's New York's Hottest Art Installation. Stefon would love it.
"Enough with that face!" said Blanchett, laughing and covering up a copy of the exhibit's catalogue (featuring punk-musician Cate Blanchett), on its opening night this week. She was attending with her husband and one of her three sons; the entire family can be seen on one of the screens, a reverie on domesticity in which Blanchett delivers a Claes Oldenburg manifesto on Pop Art in a Southern accent. ("I am for an art that is put on and taken off, like pants; which develops holes, like socks; which is eaten, like a piece of pie, or abandoned with great contempt, like a piece of shit.") That segment also gives us a glimpse of the family's scary taxidermy, atop of which sits a live crow, inside their home.
Other highlights include Blanchett as a severe Russian choreographer directing a herd of dancers in silver alien outfits demanding "mighty erections of aquatic giants"; Blanchett as an angry widow at a funeral pulpit going off on Dadaism; Blanchett as a New Jersey–accented stockbroker contemplating Futurism; Blanchett as a puppeteer manipulating a doll in her likeness while thinking aloud about surrealism; and Blanchett as a schoolteacher educating a classroom of children on the tenets of Dogma 95. It's a piece akin to Leo Carax's incredible 2012 Surrealist film Holy Motors, in which star Denis Lavant rides around in a limo, emerging each time as a different person, including a troll who kidnaps Eva Mendes. There's also a hint of Todd Haynes's I'm Not There, in which Blanchett and five other actors played versions of Bob Dylan — except here, the math's inverted.
Blanchett and Rosefeldt (director of the acclaimed 2006 feature film Lonely Planet) were introduced by a mutual theater friend in Berlin, and vowed to work together one day. Rosefeldt and his team spent two years putting together the 12 shoots for the project, then came back to Blanchett, handed her the texts to figure out on her own, and asked if she could give them ten days. She did. "We wanted to create a scenario that would liberate the manifestos but also make some of them conversational," Blanchett explained. "You're taking these very intense, dense pieces of intellectual investigation, but bringing it into domestic settings so that you're playing against some of them."
There was no time for rehearsal; all inflections and interpretations were Blanchett's alone. "It's insane," she said. "I mean, no money and just trying to shoot this thing on a wing and a prayer." She shot the segment where she plays a homeless man ranting about capitalism while surrounded by monkeys on the same day that she played the news reader talking to a counterpart reporting live from outside in a severe storm. That one is a musing on conceptual art, and soon proves to be a work of conceptualism itself.
Blanchett doesn't see this work as acting. "They weren't characters in the conventional sense of the word. I thought about them as archetypes or silhouettes. There wasn't any psychology behind them. There's an artifice." Instead, she sees it as an exploration of "shape-shifters and alternate realities. It doesn't happen in film very often, but it happens onstage quite a lot. The resonance between the same body inhabiting different characters is really powerful." In any case, she was up for anything. "I wanted to be in dialogue with Julian," she said. "And so if he'd said to me, 'I want to bury you in sand, up to your neck in sand, and I'm gonna pour Jell-O over you,' I'd go, 'Okay, that's interesting.' It's not about the acting. It's something different."
Blanchett's only direction from Rosefeldt would be to make something more conversational, or to try out another accent so they could have as many different voices as possible. "We'd say, 'Okay, this person will be from Scotland, this person will be upper-class English, this person will be Australian,'" she says. There was so much text, she could only memorize a portion of her lines; the rest was on cue cards, or delivered through an earpiece. "I loved it," she said. "There was no time to think."
As for the part in each film where Blanchett turns directly to the camera and starts speaking in a high-pitched monotone — which happens on each screen simultaneously, an incredible cacophony — Rosefeldt literally had someone tap a tuning fork that would play on the earpiece Blanchett was wearing. "I'd be talking and then the pitch tone would hit in the middle of talking and I'd have to turn and deliver it," says Blanchett. "It was very, very technical."
The end result, she hopes, is that by stripping the manifestos of context and instead focus on their rhythmic commonalities, audiences will be able to better absorb their ideas. (Almost all of the manifestos come from the first half of the 20th century, when the art scene was smaller, louder, and more influential.) "Julian has such an incredible eye that you forget the density of the manifesto, and then suddenly you realize that you're hearing quite dogmatic treatises on what art can be, what culture should be, and what humanity is. And you think, We don't hear this anymore."
For Blanchett, it's just a blur — an amazing high-wire act she did for a week and a half two years ago while on an "epic odyssey" through Europe with all of her husband's extended family. "Then we had Christmas!" And now here was that face, in 12 extreme close-ups. The last I saw her, she was leading her son through the exhibition in the dark, to the screen where he appears with Mommy as she prays at a dinner table, praising "the majestic art of dog turds, rising like cathedrals." Onscreen, he and his brothers try to keep from laughing.