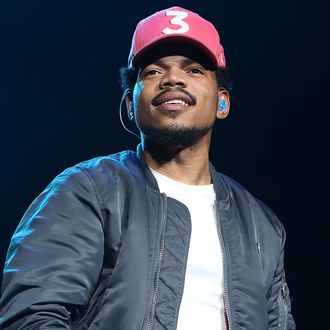 Photo: Burak Cingi/Redferns/Getty Images
While the Trump camp is maybe having to proffer favors in exchange for musicians to actually perform at his inauguration, the NAACP's "People's Inauguration" happening the day after the real one has just named Chance the Rapper as its first confirmed speaker. The organization is calling the event a "gathering of youth activists" meant to address civil-rights concerns under a Trump administration.
"The rally will re-unite allies and partners who helped register thousands of new and young voters during the 2016 election with the goal to launch a new era of activism and protest against potential threats from the presidency of Donald J. Trump. During the meeting, attendees will begin collaborating to unite together and stand for a progressive policy agenda in the coming months and years."
The rally, billing itself as Stay Woke and Fight, will take place on January 21 at Howard University, where Chance will be addressing attendees.