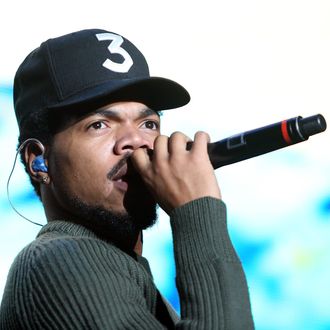 Someone start a petition.
Photo: Maury Phillips/WireImage/Getty Images
As if Chance the Rapper's musical guest spot on Saturday Night Live last week wasn't enough of a gift — not to mention that surprise mixtape he dropped in the days after — turns out, it could've been a much bigger present. Appearing on Hannibal Buress's podcast to return the favor for him being on said mixtape, Chance says he had a whole host of sketch ideas prepared for Lorne Michaels. Not only did he attend the table read, Chance says he was up until 2 a.m. the Tuesday before the show popping in and out of writers' offices with his material. Sadly, all but "Jingle Barack" (yep, that was Chance's idea) were rejected in the end. Let's pour one out for the glorious sketches that could've been: "Kwanzaa sketch," "GentriFried chicken," "Hillary Clinton tries odd jobs," and something about Kanye. Just imagine for one second Chance with Leslie Jones and Sasheer Zamata as his very own Kwanzettes. Could Casey Affleck have come up with something better? We think not! Listen to Chance talk SNL around the six-minute mark below.