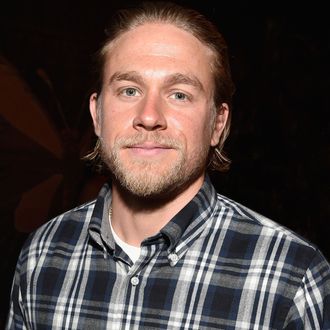 Charlie Hunnam.
Photo: Frazer Harrison/Getty Images
Actors make great sacrifices for their craft. They starve themselves. They gain weight. Sometimes, they send their co-stars semen. But mostly, they jeopardize their healthy relationships in the good name of [Jenna Maroney voice] acting. In The Lost City of Z, Charlie Hunnam plays 19th-century explorer Percy Fawcett. The film was shot in Colombia, and Hunnam decided to go lo-fi and promised to send his girlfriend a letter every day during his five months in the country. But then, the mail system didn't work very well, so he just stopped writing altogether, which made the experience even more method. "One of the things that [director James Gray] and I felt strongly that we wanted to explore in the film," Hunnam told EW, "was the conflict between family life and the exterior demands that are made on us and the social and economic demands that we all need to deal with in life, being balanced or in conflict with the internal drive, to be the people we want to be and achieve the things that we want to achieve."
When he came home, Hunnam brought his girlfriend an "appropriately sized gift" from the Colombian jewel market. "It didn't remedy all of the trouble I was in, but it got me halfway there," he said.