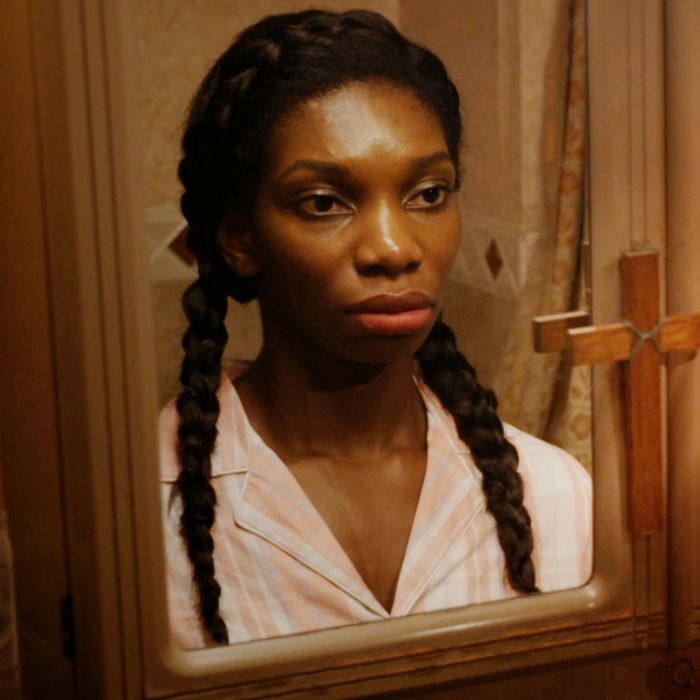 Michaela Coel.
Photo: Netflix
In a time where it seems as if there is too much TV, somehow there simply aren't enough shows like Chewing Gum. Created by Michaela Coel, the series follows Tracey (played by Coel), a 24-year-old virgin living in a London housing estate who spends most of her time trying to get laid. Complicating matters, Tracey's family and her boyfriend are very religious, which means that they don't believe in sex before marriage. Tracey is religious, too, but she worships Beyoncé just as fervently as she does Jesus, and at this point she just really, really wants to have sex.
Chewing Gum aired on E4 in Britain last year, where it has already been picked up for a second season. The show hasn't gotten quite the same reception in the U.S., partially because it quietly slipped onto Netflix late in October, when we were all distracted by the election, or something. That should change. Chewing Gum has a singular voice and vision, and it's definitely worth a binge-watch, especially since it'll take less than a few hours to finish all six half-hour episodes. If that alone isn't enough to convince you, here are all the other reasons Chewing Gum might be worth your time.
1. The sense of place.
Coel based the show off her more serious play Chewing Gum Dreams, a semi-autobiographical riff on her own experience growing up in a Ghanaian family in the Tower Hamlets in London (like Tracey, Coel was once a Pentecostal Christian, though she has since left the church). Chewing Gum avoids the clichés of  TV that tend to condescend to characters living in poverty, or simply treat them with pity (with a few exceptions, notably Atlanta and Shameless). Chewing Gum has no time for such pity. At the beginning of one episode, Tracey complains that she lives on a "fake-ass estate" without any real crime, comparing herself to a rose trying to grow out of the mud. "I was born a big thinker. I'm very wise," she tells the camera, while, in the background, unbeknownst to her, a group of characters steals a bag of dildos from an apartment. "I just am special."
2. The jokes.
Coel's writing has a rhythm all its own, and Chewing Gum's dialogue presents a trove of memorable turns of phrase. Tracey's friend Candice is the "buffest girl I've ever seen on the whole of my estate, but she's got learning difficulties, so it sort of balances it out." White people are bad kissers, but it's not their fault. "It's just that they've got really small lips," Tracey explains in one monologue, "and they can't embrace the challenge of lips like mine, and then they try and compensate for their lack of lips with the tongue, and then the tongue ends up everywhere, just flapping around." There's good material in the show's exuberant set design and camera work, too. At the moment Tracey realizes that a character might be gay, the show cuts between his half-dozen shirtless depictions of Jesus on his wall and then lands on a photo of Tom Daley.
3. Michaela Coel's boundlessly expressive face.
Like Fleabag, another British stage drama turned TV show, Chewing Gum is structured around a series of fourth-wall-breaking monologues. It never tips toward drama the way Fleabag does, but nonetheless, Coel is doing some great dramatic work. She registers every one of Tracey's millions of feelings per second in her face, making her seem awkward, optimistic, bemused, glamorous, frightened, and shy all at the same time — you know, like any other 24-year-old.
4. The sex scenes.
We're used to seeing a lot of sex on TV in ways that can be alternatively sexy, cringe-inducing, or even kind of melancholy (see The Americans). Rare, as is the case with Chewing Gum, is sex so funny. Tracey blunders through a dizzying collection of awkward sexual encounters, each more absurd than the last, and each highlighting just how absurd sex can be in the first place. In one early scene, for instance, Tracey is told that she should sit on her crush's face. Left alone in a room with him, Tracey does just that, smothering him with her pajama bottoms. She turns to the camera with genuine confusion: "I don't remember if I was supposed to wear clothes for this bit or not."
5. Cynthia Erivo is in it.
Erivo, a true Broadway treasure who won a Tony for The Color Purple, makes a blink-and-you'll-miss-it appearance in the last episode of Chewing Gum's first season. It's her first credited TV appearance, and she does not sing. But any cultural product that includes Cynthia Erivo is made better be her presence.