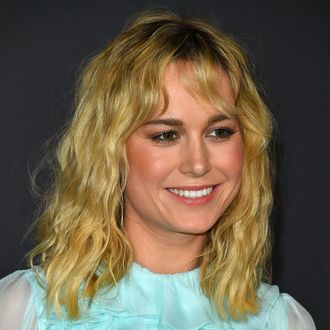 Brie Larson, adored and adorer.
Photo: Steve Granitz/WireImage
As Marvel fans are well aware by now, Academy Award-winning actress Brie Larson is set to play Captain Marvel in a film to be released in 2019. Now, thanks to a forthcoming comic, we get an advance taste of the actress and the comic book character colliding on the page and IRL. Entertainment Weekly is reporting that in a Spider-Man/Deadpool comic being released next week Captain Marvel spends a panel lamenting that she has procured the wrong film: She holds Tommy Wiseau's legendarily terrible cult classic film The Room when she really intended to get the legendarily excellent Room, starring — yep — Brie Larson. Cool shout out, and one that begged a return volley, so Larson tipped back by sharing the panel via Instagram. It's a bit of a dorky, mutual appreciation situation, to be sure, but can you blame either Marvel or Larson for their excitement? Nope, neither can we.