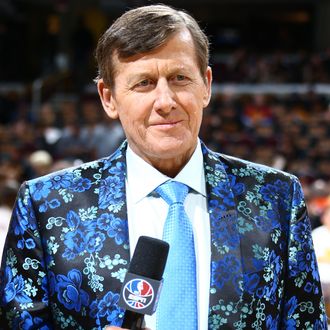 Craig Sager.
Photo: Nathaniel S. Butler/NBAE/Getty Images
Craig Sager, the longtime NBA broadcaster known for his colorful suits and charismatic sideline interviews, has died at 65. Turner Sports, for which Sager had been a reporter for nearly 30 years, announced the news on Thursday. Sager publicly battled leukemia since 2014 while intermittently continuing his basketball coverage on TNT; he received the Jimmy V Perseverance Award at the 2016 ESPYs in July and was inducted into the Sports Broadcasting Hall of Fame just this week. "There will never be another Craig Sager," Turner Sports said in a statement. The NBA has announced it will observe a moment of silence for Sager at all of its basketball games Thursday night. "Craig was as vital to the NBA as the players and coaches," NBA commissioner Adam Silver said in a statement.
Sager, who was born in 1951 in Batavia, Illinois, and would later become an Atlanta staple, famously got his start in sports broadcasting when he was hired at a local radio station in Tampa in 1972 to cover the weather. Two years later, in the first of many memorable Sager interviews to come, he was shown on national TV waiting for Hank Aaron at home plate to be the first to speak to Aaron after he'd just hit his 715th home run, breaking Babe Ruth's record. Sager was just 22 years old at the time and already a budding fashion rule breaker, wearing an instantly recognizable all-white outfit and a matching trench coat. The moment is now immortalized on video in Cooperstown at the Baseball Hall of Fame.
In 1981, Sager moved on to CNN as a sports reporter until he found what would become his true home as a sideline reporter for Turner Sports on TBS and, later, TNT in 1990. It was in his conversations on the court and behind the scenes with players and coaches that Sager stood out among the throngs of other reporters — literally. Sager was arguably more known for his creative fashion sense — mix and matching loud patterned ties and blazers provided plenty of sartorial fodder through the years — than his thorough, lively postgame interviews, good as they always were.
In April 2014, after a career that took him to the Olympics and made him a regular face on TNT for nearly 25 years, Sager was diagnosed with acute myeloid leukemia. He spent the next year taking an extended break from covering sports to receive treatment — the hashtag #SagerStrong was started in his honor — and returned to work in December 2015 to a heartfelt welcome where he least expected it. In a sideline chat with the notorious media-hating Spurs coach Gregg Popovich, Sager received a rare show of love: "This is the first time I've enjoyed doing this ridiculous interview we're required to do; it's 'cause you're here and you're back with us," Popovich told Sager.
The following summer, Sager fought back his illness to cover his first-ever NBA Finals game, resulting in an especially warm televised moment between Sager and LeBron James. In July, when Sager received the Jimmy V Perseverance Award, he told the ESPYs crowd in the night's most inspiring speech: "I will continue to keep fighting, sucking the marrow out of life, as life sucks the marrow out of me. I will live my life full of love and full of fun. It's the only way I know how." Sager is survived by his wife, Stacy, and five children.
This post has been updated throughout.