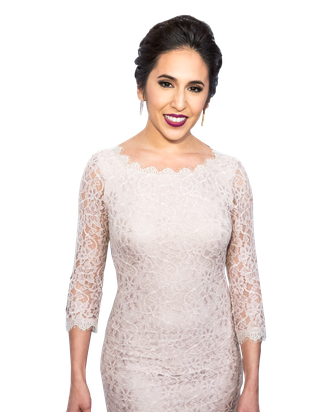 Spoilers ahead for Friday night's episode of Crazy Ex-Girlfriend.
For fans of the delightfully uppity Valencia Perez on the CW's Crazy Ex-Girlfriend, the first few episodes of the show's second season didn't exactly provide any good news — she didn't show up until the very end of the fourth episode, and when we see her, the noted yogi is gorging herself with a, gasp, doughnut. But what follows is worth the wait: Valencia goes through a feminist awakening with the help of her new "girl group," Rebecca and Heather. While she may not be totally over her ex-boyfriend Josh, she's certainly making some big strides to get over him, even if that means the occasional relapse into internet stalking his new lady. Vulture caught up with Ruiz to discuss Valencia's new friendships, her backstory, and how many doughnuts she had to eat in her return scene.
Let me preface our conversation by saying that I didn't know this episode was the mid-season finale, so I'm pretty bummed right now.
Ugh, I know. Listen, we live-tweet every Friday night. Aline [Brosh McKenna] set the standard last year by inviting us over with pizza and wine to live-tweet. And when we don't have episodes, like during Thanksgiving, I was having phantom tweeting feelings. I felt like I should be tweeting at 9 o'clock on a Friday.
You just described my perfect Friday night.
I totally agree with you.
After the first few Valencia-less episodes earlier this season I was worried that we wouldn't be seeing much of you, so it was great when you returned as a full-fledged series regular. Were you ever like, Uh, Rachel, what's going on? When am I coming back?
[Laughs.] Rachel [Bloom] is not only our star but our writer and dreamer; she and Aline created such huge arcs for these characters. At the end of season one, Aline had a meeting with all of the series regulars, and she brought me in and talked about what she wanted next for Valencia. I loved that the whole stereotype of how women fight and the competition between each other was going to take a turn in season two. And when my upgrade to series regular happened, I was so ecstatic. I joked all last season on set, When is Valencia going to get killed off the island? Since that's the way the business is sometimes. But the fact that they wanted to flesh out her character and explore why she is the way she is and what happens next was … it made perfect sense that Valencia would never leave West Covina, period, because that's her kingdom. The fact that it took awhile to run into her this season gave the story line a breath of fresh air and made Valencia's new life even more interesting. And the fact that it was in a doughnut shop made everyone scream, I think.
Oh yes, we have to talk about the doughnuts.
I have to say, the memes that came out of it was making momma proud. It's my new headshot, I like to joke about eating that doughnut. I had to eat, like, 15 of them. The second one was great, but the fifteenth one was pretty horrible. [Laughs.] They were great doughnuts, though.
How were you and Rachel initially acquainted? You two have such great chemistry.
It was another normal day of work auditioning and sending out tapes. Whenever I send tapes out, I give myself one or two blocks in New York City of walking to think about how it went. I either hate it or love it. So I sent the tape out, and I couldn't stop thinking about how much I enjoyed it. I had to guess who Valencia was, because in the script of the Showtime pilot, Valencia is barely mentioned. There was one sentence that Greg says to Rebecca in the pilot, something super-quick like: "Josh is going to her sister's quinceañera." So both my husband and I read that part and I was like, Let's just guess that's Valencia. When I got a callback, [Aline, Rachel, and I] all talked about the definition of a "mean girl" and what a mean girl is perceived as, and what a mean girl really thinks they're perceived as, and how they utilize that power. I watched all of those iconic films like Heathers and Mean Girls to really capture those high-school scary girls. They really think they're doing you a favor, they're so honest. I took it that way instead of being mean to somebody. Valencia didn't know how to talk to women, because that's probably what was projected to her when she was growing up. She's intimidating, but she's also intimidated by Rebecca and intimidated by any stress from Josh.
One of my favorite moments from the callback was that I said to Rachel and Aline, Would you like me to sing again for the next audition? Rachel was like, nah girl, we stalked you on YouTube, we got it, you can really sing your face off. [Laughs.] Coming from one YouTube user to another, it was a great moment. I wasn't feeling bad for doing all of that shameless promoting on YouTube. And of all people to understand YouTube sensations and success, it's Rachel Bloom. I feel like that's when we really bonded. And then during episode one or two, there was a lot of time to finally just talk to Rachel and get to know her. Through the first season, there was a lot of chatter between her and me discussing how we were sad that there was just a momentary glimpse of Valencia and Rebecca being friends. They were going to have a chance to be not just girlfriends, but women that help and support each other. So that scene at the end of Valencia's first episode in season two about women empowerment was so much fun and satisfying to get to that point. I'm very proud of Valencia.
When Valencia finally makes her return, we discover that she has been mourning her breakup with Josh by enjoying carb-y pleasures and barely leaving her apartment. We don't get too many details, which reminded me that we haven't yet learned a lot about her backstory, either. Have you ever thought of your own backstory for Valencia, and how she evolved into the woman she currently is?
I was actually hoping someone would ask me this. There are stories of my own from growing up that I've laced into her backstory. She definitely has at least two or three siblings in her family, and I can only imagine that her mother was a pretty traditional Mexican-Californian woman who had very high standards for her daughters. Sit up straight, you're here to be beautiful. And she has the machismo father, which is the traditional Mexican man of the house. She grew up Catholic. What I do relate to her involves the politics of high school. It's like, Hello, I'm Gabrielle, I'm petrified to have children because there are smartphones in the world. The politics of high school and the dynamics of what makes you popular is interesting. Like, if you don't go to a certain party you're considered a prude. I grew up very conservative but I loved to dance and tried really, really hard in every ballet class I had, and I was kind of made fun of for it. It made me an introvert in excelling at my best and what could make me happy. That's a way I relate to Valencia. There's something that happened that made her shy and protective of herself and her heart. Everyone has a story of family expectations, right? Her version of that made her the overly protective girlfriend and competitive not only with other women but with herself. Also the mindset that everyone is obsessed with you, even if no one is. [Laughs.] My mother would always be like, Majita, are you sick? You're not wearing red lipstick? You don't have any makeup on? I can relate to that with Valencia. Especially when she finally revolts and breaks out on her own and eats doughnuts. It's okay to let herself break down, and that's a story I'm so happy Valencia has a chance to share.
There's a lot of shifting dynamics going on this season. Rebecca and Paula are slowly growing apart, while Rebecca, Valencia, and Heather have formed a girl squad. Do you think Valencia and Rebecca's friendship is real, or was it forced into existence by Rebecca?
I would say the psyche of Rebecca … we can't deny that she has this energy of wanting to make things happen. However, we also can't deny that Rebecca craves love in general and wants others around her to be loved. How she does it? I think she figures it out every time. I love as a viewer that we can watch her continue to fail and fail — she's a great anti-hero. So approaching where Valencia is in her second season, her black star is imploding, and I would say that it's the best scenario for both of those two to have a chance at friendship. Valencia is at the bottom of her life and she doesn't even know if yoga is in her future. I like to call it "Saturn's return," that astrological term. It's her quarter-life crisis, where she's like, What am I doing with my life? She finally admits it to herself while running into Rebecca, even though she was avoiding her, let's be honest. This is the only way a chance of them becoming friends would be possible. So I don't think she forced it. When Rebecca has the chance to express love to someone, that's when the relationship blooms.
"Friendtopia" might be the standout song of the season. Can you tell me what it was like filming such a fitting Spice Girls tribute?
Oh my gosh, are you kidding me?! Browsing through Pinterest and looking up Posh Spice pictures was a dream with the hair and makeup room. Breaking out that dark mauve lipstick and the eyeliner and all the things that seventh-grade me was salivating over. You know what I'm talking about! The chokers! I was obsessed with the Spice Girls pretty much like everyone else our generation. The most fun part was researching the style of the song. It was Spice Girls themed, obviously, so I worked on my British accent by relistening to "Wannabe." And also watching the video from a technical standpoint of, Okay, what do they look like and what's their style? 
"Czar of torture" is truly a great title.
Yes, I was excited that Valencia had that title. It fits very well.
Would you say that Valencia has now become a crazy ex-girlfriend in her own right?
Oh, absolutely, it's ridiculous. [Laughs.] I love how many exes are now involved in the story lines in West Covina. Rebecca gets to not only put a mirror to her own face, but also see it in other people and witness her perceptions of what she considers crazy and why she would never do things. I think we all have those relationships as well.
The show has had a notable narrative change this season, with the plotlines focusing more on female-friendship dynamics as opposed to ill-fated romances. Do you personally prefer these new female-centric narratives?
Absolutely. I love the feminist lens of Crazy Ex-Girlfriend's writing. We're trying to change the perception that comes with love triangles, like how it makes you instantly think of Betty and Veronica fighting for Archie, the blonde and the brunette fighting for the boy … even like Brandy's song "The Boy Is Mine." What about the guy? Maybe he's the problem. [Laughs.] I think TV and film have blank spots of what love dynamics truly are. I feel I get to be a part of some groundbreaking story lines and intentions behind the writing that Rachel has a very adamant and clear point of view of, which definitely trickles down the diagram of the writers to the producers to the directors to us. We're creating a different tune of what love and feminist can be.
Is Valencia's newfound feminism indeed genuine, or do you think she'll revert back to her old ways in due time?
Valencia's always had the strength and determination and confidence. She was just told to utilize it differently. With the imploding of the woman that occurred between seasons and where she is now, of all people to discover her true feminism, she's had it all along. And I feel that's very relatable. You don't know what your strengths are until you surround yourself with the right people. It's a very important lesson that I feel every day, and therefore I believe that this new dynamic is what keeps her on a course that she'll not only fight for herself, but fight for the friends she never had. I never really had high-school girlfriends, it was very competitive. When it came to relating to women I had a lot of social anxiety. I can relate to Valencia in that way. But then moving out to New York and being myself and thriving in my career in what I love to do, I found myself in a totally new circle of people. These women I met through health coaching came to a production of West Side Story that I was doing, and I was stunned that they made the drive all the way to Maine to see me. It makes me get emotional because the fact that I finally experienced what women girlfriends were at the age of 27 was so new, and once that happened I got very protective over those women. I'm finally at a point where things don't intimidate me or I don't feel I need to suppress my energy. Everyone is confident and thriving in their life for each other, and that's the dynamic Rebecca and Valencia have reached in the second season.
This interview has been edited and condensed.