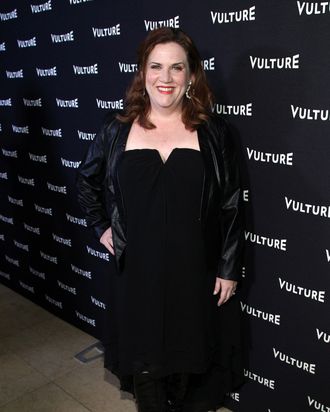 Donna Lynne Champlin at the Vulture party in LA.
Photo: Tommaso Boddi/Getty Images for New York Magazine
While the CW hasn't confirmed that the critically acclaimed and beloved Crazy Ex-Girlfriend will be back for a third season, but if for some godforsaken reason the show doesn't return, Donna Lynne Champlin, who plays Paula, BFF to Rachel Bloom's Rebecca, promises that fans will be apoplectic. Though she was bound to secrecy at last night's Vulture Awards Season party in Los Angeles, the actor shared enough to make us want to break into a song-and-dance routine about the impending season-two finale, which the actors just finished shooting. "I will say that we did end our season two on a genuine cliffhanger, so if there isn't a season three, there's gonna be a lot of people who are gonna be like, 'Whaaaaaat?!?' Including myself!" she said. "We just filmed it yesterday and I was like, 'Bold move. Bold move guys, okay.'" C'mon CW, don't leave us hanging.