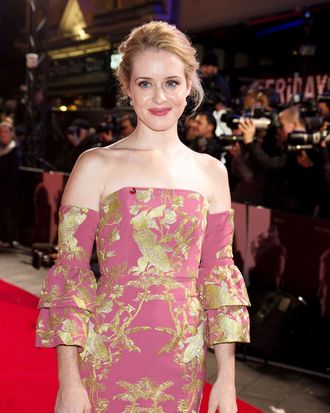 Photo: Dave J Hogan/Dave J Hogan/Getty Images
While most of Hollywood was asleep during the early morning Golden Globes nominations on Monday, The Crown's breakout star Claire Foy, who plays a young Queen Elizabeth II at the start of her reign, was wide awake midday in England and shocked to learn of her nomination for best actress in a drama series. She was even more elated to find out she's not alone: John Lithgow is up for best supporting actor for his committed turn as Prime Minister Winston Churchill. The Netflix show itself is also up for best drama, among a surprising sea of newcomers against the Game of Thrones behemoth. Foy, who's in the middle of filming season two, spoke with Vulture shortly after the announcement to share her reaction to being a first-time nominee, how she and the rest of the cast are getting on without Lithgow, and the show's future.
Congratulations! How does it feel to be a first-time nominee?
I couldn't believe it. My agent called and told me and I laughed out loud.
Did you text John Lithgow?
No, because I just presumed it was too early in L.A. to even try and contact him. But as soon as I'm done with all this, I'm going to email him and share the loveliness of this.
Were you surprised to see The Crown among all these other freshman shows up against Game of Thrones?
I don't really know how it all works. The show only just came out in November, so to me it feels like a complete whirlwind. I always thought that things like this took time and you had to build up an audience. I've been so overwhelmed by how many people have watched it and the positive response we've had. To get this as well … it's amazing.
Do you know which episode of yours was submitted?
No. Is that what they do? People don't watch the whole thing? Oh, of course they don't, people haven't got the time! [Laughs.]

I believe so. Which would you have wanted them to see?
Well, my favorite episode is nine, and I'm not really in it [laughs]. So that probably wouldn't be a very good one. For me, the whole series is such a feat. I feel very much like I was playing many different characters because the Elizabeth at the beginning of the show is very different from the Elizabeth at the end. So it can't really be viewed in that isolated way; you have to see her journey and the progression. But I think everyone feels that way about their series. I suppose episodes one and two stand alone as their own kind of film — they have their own romance, beauty, and energy to them that's independent of the series.
The Crown joins this history of British period pieces getting awards show love —  Downton Abbey, Wolf Hall, the latter of which you were on. What is it about these series that resonates so much with foreign audiences?
God, I don't know. If there's a trend, it's definitely not that way in England. You're not favored if you do a period drama. I would sort of hesitate to say there is a trend because right now there are just so many period pieces, regardless of whether they're any good.
It's true. Everyone you're nominated against is a period piece.
Oh, really? Wow. Well it's just the nature of drama: You either look back or you look forward a lot of the time. I think it can be sometimes scary to look at what's happening right this second, isn't it? If you look at things like The Big Short or 99 Homes, they really stand up and look at the situation we're in and how we got here. But if you're able to do something about the past, there's a sense of escapism and you can draw from those stories about the present as well.
Will this be your first Golden Globes?
It definitely will. I've got to figure out what I'm gonna wear, God!
Coming from the world of The Crown, finding an elegant gown should be no problem.
I just need [costume designer] Michele Clapton to make me one. That would be amazing.
Recently the royal family has been sending out these unprecedented press releases commenting on personal relationships. The timing of it is rather strange. Do you think it's The Crown effect?
No. The monarchy is thousands of years old and has experienced many things like The Crown in the past. They're always changing and evolving, that's the thing. They have to. I think they're in a very interesting position at the moment because they're having to change faster than the way we're all trying to keep up with the way things are changing. We're all trying to figure out how the hell to live in the world that we're creating. They're constantly looking to us from where they stand and what their role is. So sometimes they're maybe one step ahead or behind us, but there's no science to it. I definitely don't think The Crown has had any impact.
Do you find yourself paying attention to more British royal news now that you've played a royal?
It's that thing where once you start doing something, you notice it everywhere you go. It's all of a sudden everywhere. Your awareness of it is so much more. It's funny because, to me, the monarchy is her, but that's not really the case anymore. I have to get used to the idea that there's a younger generation, and it's gonna change. I'm very much in her world, so I'm not quite as up to scratch with the modern developments at the moment.
Have you met her?
I have! Many years ago, about five or six years ago, before I knew was gonna play her. I won't hold my breath about getting another invite anytime soon [laughs].
If she hasn't already, do you think she'll watch The Crown now that it's awards-approved?
The thing is, I don't really know whether she goes online. I'm also not sure if I would love for her to see it. I do know that I'd rather not know. There's a real mystery and beauty in not knowing whether she's seen it or not.
Have you started filming season two?
Yes. It's been a bit peculiar because we've all been so separate that I don't feel like I've even made much of it so far. We're all in little units. I can't wait to get back together again and for us all to be in one room and have a catch up. We're starting off pretty much where we left the last season, so it doesn't feel like any time has passed. There's not much of a gap, but we will go through another ten years' time.
It must be bittersweet not having John Lithgow on set.
I know, it's awful! Me and Matt [Smith] did a Skype chat the other day and John was there on the end in L.A. It was so amazing just to see his face! I just love and miss him so much. But saying that, I can't be unfaithful. I do have some amazing new prime ministers — Jeremy Northam, who plays Anthony Eden, and then Harold Macmillan — so I'm a very lucky girl. But I've gotta say, I have a very special place in my heart for John Lithgow. I'm so happy he's nominated! I can't believe it. We get to go and have a great time and be in L.A. and be funny together.
Netflix is rumored to want The Crown for six seasons, each covering a different decade of the Queen's life. Are you already dreading the prosthetics?
Well, after two seasons, that's it. I'm gone. They're getting rid of all of us.
What?
I know. I don't how they're planning on doing it, but they're such an incredible bunch of directors and producers that it's gonna be different and exciting. It'll be original. I can't wait to see where it goes. I'm so honored to have been involved at this stage. I couldn't be happier really. There'll be no 3 a.m. makeup call for me!