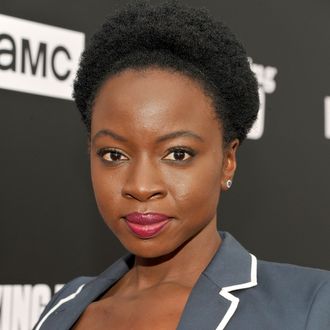 Photo: John Sciulli/Getty Images for AMC
Walking Dead star and Broadway playwright Danai Gurira has penned a passionate defense of the Hamilton cast and their decision to address Vice-President-elect Mike Pence from the stage. As the Eclipsed writer points out, theater is not historically known for being a safe space. "The theater never has been solely a place to be entertained. It also can be dangerous. As a playwright, I only know I am on the right track when I become frightened by what is unfolding on the page," she explains in The Hollywood Reporter. Gurira also connected the cast's public statement to the theater's rich history of controversial art. "John Kani, an actor and writer who worked in apartheid-era South Africa, said he expected that by the time he was done with a performance, the police would be outside. And they were. He was arrested. Arthur Miller and Clifford Odets used theater as a form of resistance during McCarthyism," she observes.
While some, like President-elect Donald Trump, castigated Hamilton for dragging the story of the Founding Fathers into modern politics, the Tony-nominated writer insists this is only a beginning of a theatrical sea change. "It was a war cry," Gurira declares. "We must be resilient, tactical and fearless, and make use of every platform we possess to truly become the change we still believe in. The theater is a living, breathing exchange between artist and audience. It is a sacred space — when you walk in, you are in the hands of those who have labored to craft the performance. And it is often a place where societal discomforts are confronted, where disenfranchised voices are heard, where freedoms are expressed and protected." Time to step it up big time, cast of Phantom.