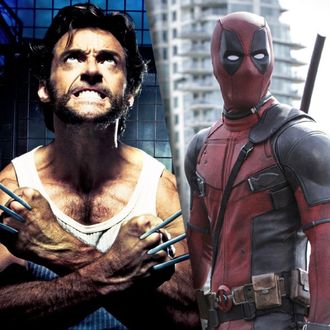 Photo: Joe Lederer/2015 Marvel & Subs/Twentieth Century Fox Film
Don't count on another pair of cynical superheroes meeting again in 2017. Ryan Reynolds and Logan director James Mangold both responded to rumors that Deadpool will make a brief appearance in Logan, the next Wolverine installment. After an unnamed source told the Wrap that Reynolds filmed a post-credits Logan scene directed by Deadpool 2 helmer David Leitch, Reynolds denied making an appearance. The actor tweeted that Deadpool won't share the screen in Wolverine's solo mission. Mangold dismissed the report, calling it a piece of fake news. "DEADPOOL IS NOT IN MY FILM," he tweeted. "Does all caps help confirm it?" The Logan scene would have been the second Deadpool-Wolverine crossover: In X-Men Origins: Wolverine (2009), Reynolds had a brief cameo as Deadpool. Logan, which finds Wolverine caring for a young mutant girl and an ill Professor X during a decline in mutant births, will be released March 3, 2017.
* This post has been updated to reflect Reynolds and Mangold's denials.