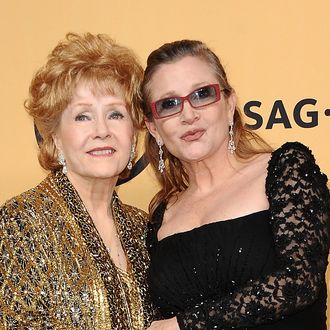 Debbie Reynolds and Carrie Fisher.
Photo: Jason LaVeris/FilmMagic
Carrie Fisher has been in the hospital since Thursday when she suffered a heart attack on a transatlantic flight from England to Los Angeles. Since reports first came in, her status has been closely monitored by friends and fans, and conflicting reports often seemed to be coming from media sources, people who had been on the airplane with her, and those close to Fisher. With a few days for things to settle, however, word has come from an unassailable source that Fisher is, in fact, stable at this time. That source is Debbie Reynolds, Fisher's mother and a Hollywood legend, who tweeted the news yesterday afternoon:
Reynolds, 84, has reportedly been at her daughter's side since shortly after the news broke. Other visitors include Fisher's brother, Todd; her half-sister Joely Fisher; her daughter, Billie Lourd; and her beloved dog, Gary. Carrie is Reynolds's daughter by actor Eddie Fisher, to whom Reynolds was married in the 1950s. The tweet offers a bit of solace for fans who've been waiting for reliable news of the beloved star's health; after all, mother knows best.