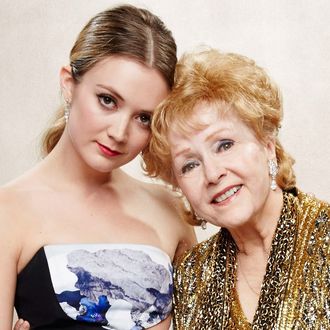 Photo: Kevin Mazur/WireImage/Getty Images
Condolences have poured in for the actress Billie Lourd in the past few days following the news that her mother, Carrie Fisher, died on Tuesday after suffering a heart attack, and her grandmother, Debbie Reynolds, died the next day from a stroke. Before the deaths of those two iconic women, Lourd made an appearance on Late Night With Seth Meyers earlier this month where she shared an amusing anecdote about her storied grandmother. "First of all, she gets really upset when I get called Carrie Fisher's daughter, she wants people to call me Debbie Reynolds's granddaughter," she joked to Meyers. "It's very offensive to her. She doesn't like to be cut out of that." Lourd then went on to recall the time Reynolds attempted to thwart her future acting plans with the help of some old diaries:
When I first started acting, everyone in my family didn't want me to act. I was really rebelling by doing this. So she called me down to her house and had this binder of these diaries that she had written when she first started doing Singin' in the Rain. She sat me down on her couch and said, Okay, I need you to read these, dear. In her '50s actress voice. I started reading them to myself, and she said, No dear, please read them out loud. I started reading them and they were all in second person. They're somewhere along the lines of, "You're sitting in the make-up chair, it's five in the morning, they've pulled out all of your eyebrows, and you have no eyelashes left, your hair is a shell of itself and all you wanted to be was a gym teacher." I read this out loud and looked at her like, uh, okay. And she looked at me so earnestly with her hands crossed in her lap and was like, Are you sure you still want to be an actress, dear? I was like, Yeah, I think it's different now, I think I'm going to be able to keep my eyebrows. I don't think they're going to put a wig on me, I got long hair, it's fine. So, I'm gonna go for it.
Lourd — who currently stars on Fox's comedy-horror anthology series Scream Queens — also said that Reynolds was a "huge fan" of the Ryan Murphy show for a very simple, glamorous reason. "She's a fan with anything that involves a lot of fur," Lourd explained. "She misses that in film and TV. So the fact that we're all clad in fur earmuffs and fur jackets, it's her dream show." What a legend.