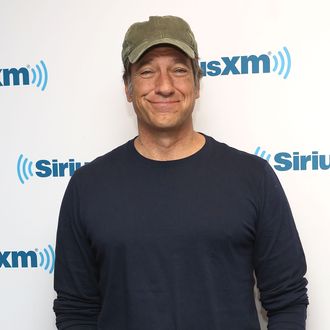 Photo: Robin Marchant/Getty Images
Having recently gotten political with his explanation of how Donald Trump's win is a win for the kinds of "regular people" who watch his show, Dirty Jobs host Mike Rowe has now aired his frustration with some people he does not count among that group: liberal-arts students who burn the American flag or are uncomfortable with its presence. Seemingly giving blanket treatment to those distinct attitudes, Rowe expressed his objection to any such behavior in a new message on Facebook. In it, Rowe centers his argument around a TV segment about Hampshire College, whose president removed the flag from its campus in an effort to "focus our efforts on addressing racist, misogynistic, Islamophobic, anti-immigrant, anti-Semitic, and anti-LGBTQ rhetoric and behaviors." Rowe's problem with the decision? It lets angry or vulnerable students ignore that conditions elsewhere are worse. He explained:
I couldn't help but wonder if President Lash was unaware that billions of people around the world are routinely subjected to horrific levels of racism, misogyny, and bigotry that far exceed any injustice in modern-day America … Furthermore, I was curious to know if President Lash really believed that removing our flag is a better way to assuage the fears of his frightened students, than simply educating them about the undeniable fact that no country on the planet affords its citizens more liberty than this one?
Rowe went on to clarify his problem as being not only with students objecting to the flag, but with students who use federal financial aid while doing so. Seemingly suggesting that one must support one's government entirely in order to deserve its benefits, Rowe questioned Hampshire College for accepting "federal dollars provided by the same government whose flag was no longer suitable to fly at [the] school." Rowe also isolated the flag-related dissent as a preoccupation of liberal-arts colleges. He continued, "I turned the channel, and watched another group of students dance around another pile of burning flags at another expensive university. I couldn't tell where they were, but occurred to me that wherever they were — it probably wasn't a trade school. To my knowledge, no one has ever burned a flag at a trade school." Ending his message, Rowe signed off with a warning: "don't play with matches."