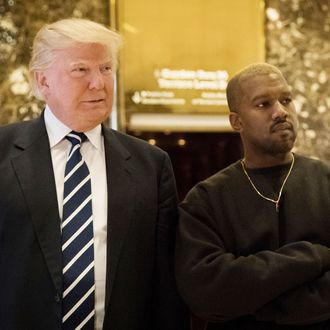 No one man should have all that power.
Photo: Drew Angerer/Getty Images
Two old friends — Kanye West and Donald Trump — had a good chat this morning. Kanye requested a 15-minute sit-down with the president-elect, according to TMZ, and brought along an entourage complete with his creative director Eli Linnetz and Corey Gamble. In a photo op after the meeting, Trump (who does not appear to miss the old Kanye) said he's been friends with the rapper for a long time. The agenda: "Life. We discussed life," Trump said. Kanye kept his comments short, declining to answer whether he's in the running to give an inauguration day performance. "I just want to take a picture right now," he said. According to E!, the meeting was arranged by Trump to discuss Kanye becoming an "ambassador of sorts" in some "entrepreneurial leadership role." No word on whether the two also talked about Trump's guest spot in the "Famous" music video.