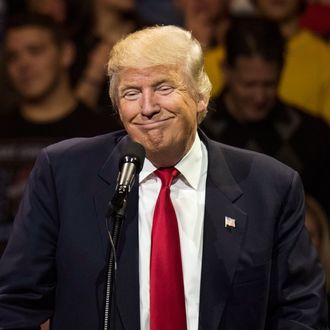 Photo: Ty Wright/Getty Images
Despite having Kanye West in his corner, Donald Trump is still having difficulty finding musicians to play at his inauguration. According to two talent bookers who spoke anonymously to The Wrap, Trump's Presidential Inaugural Committee offered to reward them with ambassador positions if they could procure top singers to perform. One talent manager described being offered "access to the administration" if he could lure major talent. "They said they were in the process of 'figuring out posts, ambassadorships, and commissions' if that was of any interest," he said. Another source also described receiving a "serious" ambassadorship offer, and that he was so shocked at the proposal that he almost dropped the phone. "Never in a million years have I heard something so crazy," he said. Both declined the offers.
Trump's team denied the allegations. "There is no truth to this insinuation," said committee spokesperson Boris Epshteyn. "First-class entertainers are eager to participate in the inaugural events. The inauguration as a whole will be an exciting and uniting celebration of freedom and democracy. We will be releasing further details at the appropriate time."
While ambassadorships are often handed out as rewards to campaign donors and fundraisers, offering such posts to talent bookers is "outside the norm," particularly given that celebrities are usually willing to perform at such high-profile national events without compensation. Yet Trump's team, — who can't even book a high-school marching band — is reportedly willing to shell out big bucks in exchange for top talent.
Right now, America's Got Talent singer Jackie Evancho is slated to sing the national anthem. Other names that have been floated are opera singer Andrea Bocelli, Kid Rock, and Ted Nugent. There was some speculation that Trump's meeting with Kanye — in which they reportedly discussed the singer being "an ambassador of sorts" — was related to a possible inauguration performance, but so far, the pair are just happy to be "great friends."