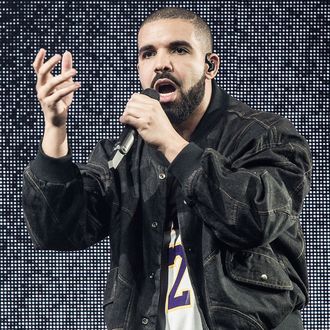 Just one more dance.
Photo: Harmony Gerber/Getty Images
Both Drake and Spotify's music careers are just shy of hitting the ten-year mark, and yet combined they've got some truly rare time-tested star power. Drake has already been named Spotify's most-streamed artist ever (closing out a gargantuan 2016 on top); he now holds one more unprecedented Spotify record. As of this week, Drake's "One Dance" is the first song in Spotify history to hit one billion streams, thereby extending its lead as the most-streamed song in Spotify's young life, which it became back in October when it hit 880 million streams. The previous title holder was Major Lazer and MØ's "Lean On," which then had around 875 million streams. That means that in less than two months, Drake added another 150 million streams to his first No. 1 song just to really rub it in. To put Drake's milestone in perspective, the record-obliterating one billion streams he's netted since April only accounts for a single steaming service — and not even the one that has him on payroll! — meaning the full total for streams of "One Dance" is probably more like a few billion. Back in September, Views became the first album to reach a billion streams on Apple Music, too, so we're talking about a helluva lot of dances here, folks. Wear comfy shoes.