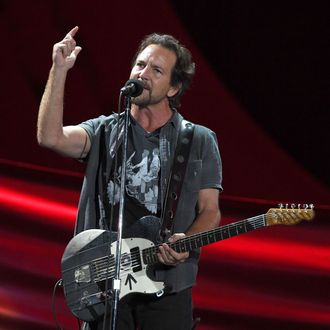 Eddie Vedder.
Photo: ANGELA WEISS/AFP/Getty Images
Eddie Vedder has had a decent year, at least when it comes to baseball and partying with Bill Murray, so you could understand him feeling rosy and generous as the year comes to a close. (The Pearl Jam front man also shares some facial-hair kinship with a certain seasonal gift-giving world traveler, though Vedder's is of the "gracefully aging grunge musician" variety.) So it's perhaps unsurprising that Vedder has donated $10,000 to a family in need this Christmas season. As Rolling Stone reports, Vedder was struck by a recent Washington Post story about a woman in Maryland who posted on Craigslist seeking help this holiday season and decided to foot the bill. The woman, Tyshika Britten, is a mother of six whose passionate online plea for $6,000 to ensure that the family would not be evicted and to provide some gifts for her children went viral. Vedder, who grew up in poverty and recalled years of broken or used Christmas gifts sourced from garage sales, was compelled to give. "I was so moved by the story and what this mother did for her children. I thought those kids must be so proud of their mother for reaching out," he told the Post in a follow-up interview. "That takes a lot of courage."
The GoFundMe for the Britten family has now raised three times its initial goal of $6,000, thanks in large part to Santa Eddie. And as a delightful coda to this Christmas miracle, Tyshika Britten admitted she did not initially know who Vedder was ("Is he in a band?" she reportedly asked) but now reports that the family has started watching Pearl Jam's concerts online. Rock gods bless us, everyone.