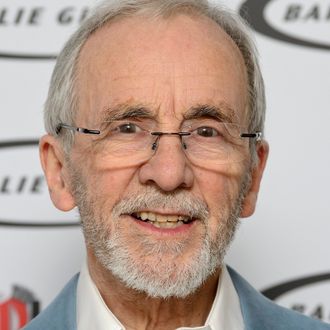 Andrew Sachs
Photo: Ben Pruchnie/Getty Images
Fans of British television comedy are in mourning today for actor Andrew Sachs, who died at the age of 86, reportedly of complications from dementia. Sachs is best known for his work as the sweet but clueless Spanish waiter Manuel, who serves patrons at the eponymous rural England inn in the classic BBC series Fawlty Towers, which ran from 1975 to 1979. In the show, Sachs's character, who spoke little English, was frequently subjected to the misplaced abuses of Basil Fawlty, played by series creator and Monty Python alum John Cleese. He is particularly remembered for his much-repeated catchphrase, "I know nothing!"

To fans of British situation comedy, and in particular the brand of slapstick, physical, in-and-out-of-doors comedy that shows like Fawlty Towers perfected, Sachs was, and is, an icon. In remembrance of his late friend and comedy comrade, the 77-year-old Cleese posted a series of tweets today (see the entire thread on Cleese's Twitter page):
According to the BBC, Sachs died surrounded by family on November 23 and was buried today. Below, relive one of his best-loved Manuel moments, the famous original "I know nothing" scene. Sachs will be missed.