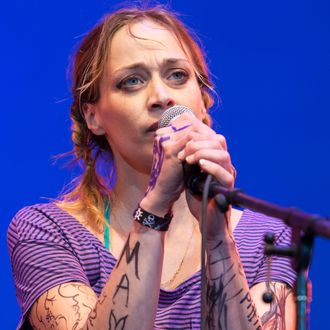 Hey, at least she sounds great.
Photo: Jack Vartoogian/Getty Images
Donald Trump and classic Christmas carols are not the first pairing that comes to mind, but that is perhaps only because we unfortunately don't possess the mind of Fiona Apple. Right in time for the holidays, a mysterious video of Fiona Apple singing an anti-Trump protest song to the tune of Nat King Cole's "The Christmas Song" has surfaced online. "Trump's Nuts Roasting on an Open Fire" reimagines Trump as a Santa-esque pedophile out to terrorize your children, and you can truly never unhear it. After 70 years, someone has managed to sully Nat King Cole's timeless Christmas cheer — but for a good cause! Sort of. After having already sung "Everybody knows that money and entitlement can help to make the season white / Mothers of color with their kids out of sight will find it hard to sleep at night," she then ends her cover by ripping up a photo of Trump. Holidays at the Apple house seem fun.