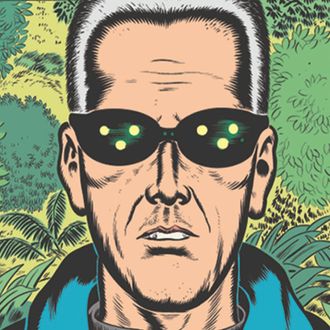 Excerpt from Patience. Photo: Fantagraphics.
Photo: Daniel Clowes
Few cartoonists of the past half-century are held in higher esteem than Oaklander and erstwhile Chicagoan Daniel Clowes. The 55-year-old writer-artist has produced some of the medium's most acclaimed graphic novels, including David Boring, Like a Velvet Glove Cast in Iron, Ice Haven, Wilson, and, perhaps most importantly, the seminal grunge bildungsroman Ghost World. The latter two have made the transition to film — Terry Zwigoff's Ghost World premiered in 2001 and Craig Johnson's Wilson is scheduled for next year — and another is on its way to being added to the list: his latest work, this year's Patience.
Focus Features announced today that it's acquired the film rights to that graphic novel, a surreal and violent tale about an asshole who travels through time to prevent a vicious crime. We here at Vulture picked it as one of the best comics volumes of the year, and Clowes is set to write the screenplay (as he did with co-writer Zwigoff for Ghost World). Two things to note here: First, a Patience movie will be radically different from Clowes's other adaptations, due to the fact that the story dives into some truly psychedelic visual territory, which was not the case in his intimately realist past work; second, it's interesting that Focus is the studio here, given that Wilson is a Fox Searchlight picture. It's hard to know what to read into that change, but it's somewhat of a piece with Clowes's approach to publishing. He's been quite promiscuous on that front, becoming one of the only cartoonists to be published by Drawn + Quarterly, Fantagraphics, and Pantheon. Clearly, his next adaptation will be produced by Marvel Studios.