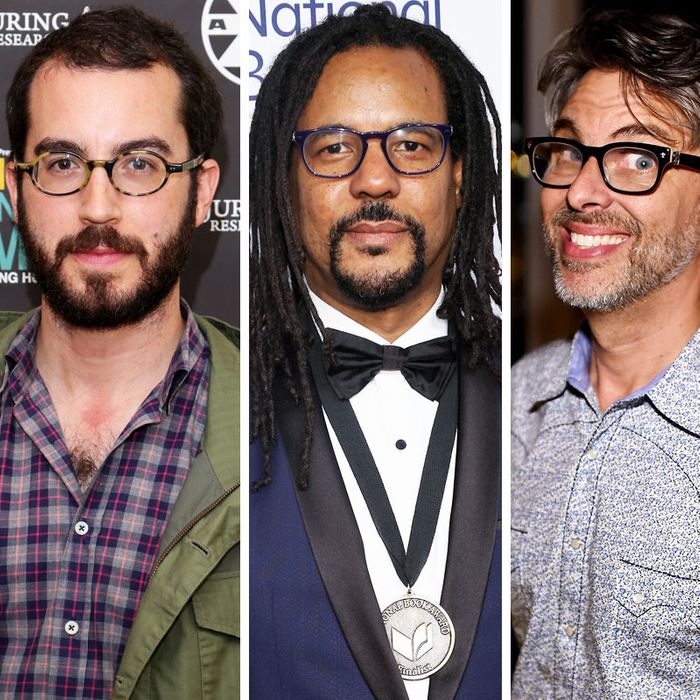 From left: Jonathan Lethem, Jonathan Safran Foer, Colson Whitehead, Michael Chabon.
Photo: Getty Images
The turn of the 21st century was a weird time for literary fiction. A wave of critical consensus had finally crashed on the rocks of glib postmodernism, and the literary establishment was anxiously casting about for something else. Enter four dudes with a knack for plot, an appreciation for genre, and ambition in spades. Colson Whitehead, Jonathan Safran Foer, Jonathan Lethem, and Michael Chabon all came to prominence with bold, imaginative novels infused with social commentary. All of them followed similar trajectories — brilliant success in the form of film adaptations, MacArthur grants, and Pulitzer Prizes; the subsequent backlash that inevitably follows such success; some dallying in genre and nonfiction; and now, this fall, a return to their roots. (The last of these four new novels, Chabon's faux-memoir Moonglow, is one of our ten best books of the year.) They've had varying degrees of success, but Whitehead — now a National Book Award winner and Oprah pick — indisputably leads the pack. Below, a look at each of their careers thus far.
COLSON WHITEHEAD
First big hit: 1999
Whitehead debuts with The Intuitionist, a speculative riff on an extremely racialized, dystopian society literally organized by elevators, and the first black woman to cement the coveted position of elevator inspector. "Literary reputations may not always rise and fall as predictably as elevators," writes Gary Krist, "but if there's any justice in the world of fiction, Colson Whitehead's should be heading toward the upper floors."
Highest point of celebrity: 2002
The year after his novel John Henry Days is nominated for a Pulitzer, Whitehead is awarded a MacArthur genius grant at age 32.
Greatest backlash: 2003
The Colossus of New York, a nonfiction meditation on that most evergreen subject, leaves critics scratching their heads.
How the next book did
Sag Harbor, 2009's memoiristic story of "black boys with beach houses," receives positive reviews but comparatively little attention.
Genre Gambit: 2011
With Zone One, Whitehead tries out a plot-driven zombie story without sacrificing those pages-long digressions. "I try to have each book be an antidote to the one before," Whitehead says in an interview. "The terror of figuring out a new genre, of telling a new story, is what makes the job exciting, keeps me from getting bored, and I assume it keeps whoever follows my work from getting bored as well."
Nonfiction foray, part two: 2014
Whitehead heads to Vegas with $10,000 of Grantland's money and a spot in the World Series of Poker. So if the ensuing memoir, The Noble Hustle, is a bit of a joke, it only follows that it won't be taken seriously. "You can sense that he's half embarrassed to be writing it," says Dwight Garner.
Return: August 2, 2016
The Underground Railroad, Whitehead's mythical rendering of two slaves' journey to freedom, wins the National Book Award. Oprah selects the novel for her book club before its release, and Moonlight director Barry Jenkins begins a mini-series adaptation. Michiko Kakutani happily compares it to his earlier novels: "This novel jumps around in time and space … reminding the reader of the inventive storytelling in such earlier Whitehead novels as The Intuitionist and John Henry Days."
JONATHAN SAFRAN FOER
First big hit: 2002
The 25-year-old Foer publishes Everything Is Illuminated, a hyperactive Holocaust quest narrated in amusingly broken English. Critics respond with feverish praise. "It's hard to get through the first chapters," Francine Prose writes in the Times. "The problem is, you keep laughing out loud, losing your place, starting again, then stopping because you're tempted to call your friends and read them long sections of Jonathan Safran Foer's assured, hilarious prose."
Highest point of celebrity: 2005
He continues his tour of tragedy with the 9/11 novel Extremely Loud & Incredibly Close, which nets him a million dollar advance, great sales, and mixed reviews. Six months later, an adaptation of Everything Is Illuminated starring Elijah Wood blows the minds of sensitive young college kids everywhere. Foer's agent tells the Times Magazine that everyone's envy "had me ripping my hair out."
Greatest backlash: 2008
Readers — or at least the literary world — mutiny, and "Schadenfoer" reaches its peak. This magazine pokes fun at an "American writer making a fortune off whimsical novels about Soviet Jews," and a playwright friend of Foer's pens a suspiciously plausible story about a successful novelist and his jealous friend ("I hope it's bigger than The Lion King," Foer says of the play). Even Malcolm Gladwell suggests that the early bloomer's star will soon fade.
How the next book did
Now a new father and dog owner, Foer discovers a taste for polemic in 2009's Eating Animals, a screed against animal cruelty, bioengineering, and human hegemony. (As you might guess, he likens factory farming to certain historical atrocities). The same sentimentality that kept his novels burning leaves critics cold.
Genre Gambit: 2010
Riffing off the 1960s classic A Humument, Foer pokes literal holes in his favorite book to create Tree of Codes. His London publisher bills it as a "sculptural object," thereby letting us all know we don't actually have to read it. (The book lives on with secondhand sellers, yours for only $120.)
Return: September 6, 2016
Eleven years after his last novel, Foer reemerges with Here I Am, a story about divorce and what happens when an earthquake threatens to destroy Israel. Critics mostly laugh at the sex scenes and wonder what Foer could do if he just got out of the way. As Dwight Garner concluded in the Times, "You wanted more sinew and guile from his work, more Saul Bellow and Philip Roth. Instead, he again and again exited at the Glass Family station on the J. D. Salinger commuter line and ended up in some pastel cul-de-sac of his own devising."
JONATHAN LETHEM
First big hit: 1999
Lethem hits critical gold with this fifth novel, Motherless Brooklyn, a hard-boiled crime story blessed with a Tourette's-afflicted detective and some au courant paranoia. "A detective story that transcends its pulp roots not by adopting high-art pretensions but by bringing to the genre an originality and an idiosyncratic sympathy that few other writers could muster," writes Gary Krist.
Highest point of celebrity: 2003
The Fortress of Solitude, Lethem's bildungsroman of 1970s Brooklyn, weaves in gentrification, race, and musical obsession. Critics fall for its clamor. "The Fortress of Solitude is crowded beyond my powers of summary with lessons, insights, facts, dates, song titles and minor characters," writes A.O. Scott. Lethem wins a MacArthur genius grant two years later.
Greatest backlash: 2007
You Don't Love Me Yet, a short novel about a young rock star in L.A., "felt like a vacation or a willful act of misdirection," according to one critic, and leaves readers longing for another big book about New York.
How the next book did
2009's Chronic City, a Manhattan-set social novel in the vein of Bonfire of the Vanities, is exactly that big book about New York that readers were missing. "In Lethem's earliest work the tricks and extravagances and gymnastic prose sometimes seemed arch or mannered — merely clever — but they have grown steadily more confident, and here they serve the higher purpose of flinging Manhattan onto the page in all its manic energy," Gregory Cowles writes in the Times. Lethem moves to L.A. three years later anyway.
Nonfiction foray: 2011
The essay collection The Ecstasy of Influence, Lethem's endearing paean to his diverse and dizzying array of influences, is a finalist for the National Book Critics Circle Award.
Genre Gambit: 2007
Lethem goes full-on fanboy with Omega the Unknown, a ten-issue revamp of the superhero comic he loved as a teenager.
Return: October 18, 2016
Like Motherless Brooklyn, A Gambler's Anatomy pairs grand-scale intrigue with a pitiable hero: Bruno Alexander, a globe-trotting backgammon champ with psychic powers and a brain tumor. But it's "a fluky novel, not among Mr. Lethem's very best,"writes Dwight Garner. "Its themes are underdeveloped, and it moves in zigs and zags, like a squirrel in headlights."
MICHAEL CHABON
First big hit: 1988
Chabon's debut The Mysteries of Pittsburgh, a coming-of-age story pinned to a gangster narrative, is a bestseller. (Like Foer, he's also 25). "There is much to admire here," writes Alice McDermott, "and what the novel lacks in insight it compensates for in language, wit and ambition, in the sheer exuberance of its voice: the voice of a young writer with tremendous skill as he discovers, joyously, just what his words can do."
Highest point of celebrity: 2000
Chabon's third novel, The Amazing Adventures of Kavalier & Clay, wins the Pulitzer Prize. An ambitious sweep of superhero comics, the American dream, and the devastation of World War II, the 639-page novel is deemed a "magnum opus."
Greatest backlash: 2007
Chabon has played around with genre before — illustrated kids' books, young adult, and mystery novels — but The Yiddish Policemen's Union, a work of noirish speculative fiction and his first serious novel since the Pulitzer, gets mixed reviews. As one critic points out: "The book is also about how the grandest fictions raise expectations unreasonably high, paralyze us with anticipation, doom us to the perpetual check of chronic dissatisfaction."
How the next book did
The essay collection Manhood for Amateurs, published in 2009, cements Chabon's slide from precocious 20-something to anodyne adult.
Genre gambit: 2011
Chabon continues to flaunt literary convention with an illustrated kids' book, The Astonishing Secret of Awesome Man, and his wife goes after disappointed Amazon reviewers on Twitter.
Return: November 22, 2016
Inspired by the stories of his dying grandfather, Chabon spins a kernel of autobiography into another sweeping, fantastical mid-century epic in Moonglow. Michiko Kakutani calls him "one of contemporary literature's most gifted prose stylists," and the Washington Post praises his newfound restraint: "His artistry is all the more remarkable for being essentially invisible."