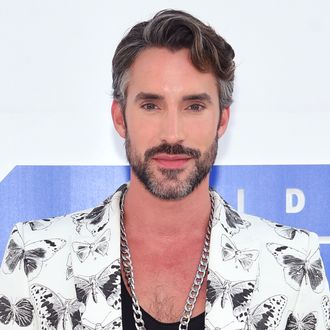 Photo: Jamie McCarthy/Getty Images
What is a thirst trap if not someone who can take your criticism of their superficiality and turn it into a profitable venture? When the world first met Robert Sepúlveda Jr., it was as the bachelor on Finding Prince Charming, Logo's reality dating series starring a cast of gay men. Quickly after the announcement of his casting, however, news broke that Sepúlveda had moonlighted as a sex worker (with one of the contestants, Chad, claiming that Sepúlveda currently still works as one). Rather than embrace the news head on, Sepúlveda was cagey, merely saying that it was just "the past." He didn't talk about it on the show until the finale, when he mentions being an escort in college.
Well, he's finally come around. Sepúlveda is now full-on embracing sex work as a cause and has released a "12 month calendar with never before seen images" with the proceeds going to "thesexworkersproject.org" (note: the correct URL is also there at sexworkersproject.org). "When someone took it upon themselves to make Robert Sepulveda Jr.'s past work as an escort, (prostitute, sex worker, slut, he has heard it all), known, the world expected him to coward [sic] in shame, not to confront or speak about it, and they expected he would feel he was unworthy," the site reads.

The calendar, titled "Rented," is branded as a "photo essay" that "gives the recipient a glimpse into the harsh reality many sex workers face." "I see my past, the good and the ugly as lessons, even being raped at age 19 — forced to have sex or not get home safely, as a lesson — gifts from god that have taught me so much and have made me the fighter I am today," the site quotes Sepúlveda as saying. "We live in a sex obsessed culture, that places priority on looks; breasts, asses, the body, sex appeal, but when it comes to facing and confronting the subject, it's taboo, an off limits topic and even worse if you dare to profit from what we hold in such high regard, profit from the very thing we sell our children in magazines and on TV, profit from beauty."
Here's the video for the calendar. The calendar costs $49.99 plus shipping.