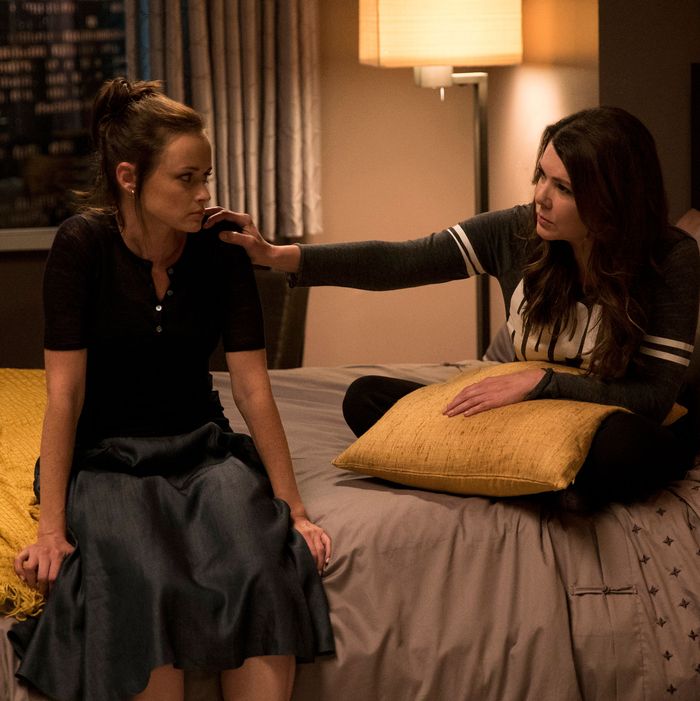 It was a real roller coaster of emotions.
Photo: Netflix
Spoilers ahead for Gilmore Girls: A Year in the Life.
The response to Gilmore Girls: A Year in the Life has been largely positive — close enough, the people say! Still, there were plenty of moments to nitpick at throughout its bloated, 90-minute episodes. Ahead, we break down the highs and lows of revisiting Stars Hollow.
HIGH: The way it handled Richard Gilmore's death.
It might've been easier to just announce Richard's death in "Winter," summarize the funeral, and leave it at that. But death isn't easy, and neither is losing the man, Edward Herrmann, who played Richard Gilmore for seven years, to cancer two years before the revival. Amy Sherman-Palladino's decision to revisit the long-term effects of Richard's loss throughout A Year in the Life felt not only an appropriate tribute to the actor and Gilmore patriarch, but right for those characters closest to him. Lorelai wouldn't have simply carried on unshaken and neither would Emily — it's exactly why their explosive scene together at the funeral read so painfully raw and honest.

LOW: All the modern references.
Between the Marvel universe, Lena Dunham, and Goop, we were taken out of the show when it tried to casually toss off modern pop-culture references in a way that felt the opposite of casual. The show was always at its best when its references were old, obscure, and surprising.

HIGH: Michel's independence.
Michel's personality has always been too big to carry on pretending he's Lorelai's lackey. At last, the revival is his chance to shine. He finally breaks it to Lorelai that's he's ready to go where he'll flourish: the W Hotel, in New York City. We also finally get the reveal that, duh, Michel's gay, and he's married, and he's going to actually attempt fatherhood. It's more excitement than we know what to do with. Let's also take a second to appreciate that Michel's drink order is a shot of tequila. Classy!

LOW: The show insisting that Rory is broke.
If you've watched even one episode of Gilmore Girls, you'd know it's impossible for any Gilmore to ever go totally broke. Struggle by choice? Sure. But poor? Never. And, yet, for some reason, A Year in the Life wants you to think the youngest Gilmore is so "beggared" she can't even afford underwear. Huh? It wouldn't make sense even if all we knew is the Gilmore dynasty is made up of a historically wealthy bunch. It makes even less sense given we've actually watched whole conversations about Rory's trust funds from her now-deceased grandfather and great-grandmother in the original, not to mention Christopher's new-ish money. Did she somehow blow it all on London flights and a new wardrobe? How very Lorelai of her.

HIGH: Eraserhead movie night.
Historically on Gilmore Girls, movie nights at the Black, White and Read Bookshop have delivered moments that are simultaneously quaint — the town movie theater is just a projector in a bookstore! How will these people ever get to see Rogue One? — and pop culturally obscure. (Who could forget Rory and Lorelai's infectious glee over Pippi Longstocking?) A Year in the Life gives us another one with that screening of David Lynch's Eraserhead, complete with host Kirk in a glorious wig that makes him look like Jack Nance. It's unclear how this bookshop/movie theater continues to operate, but shine on, you crazy diamond.

LOW: Ripping off Wild and Across the Universe.
There's homage, and then there's plagiarizing whole other stories to lazily move along your own plot. Why Lorelai Gilmore would ever attempt to Cheryl Strayed her way into an epiphany about her late father and marriage over Eat Pray Love is difficult enough to make heads or tails of. That she'd be a book purist over the movie is just egregious — she's got to be a Witherspoon stan! And then there's that elaborate Life and Death Brigade stunt, which shamelessly borrows an entire musical number, shot for shot, from the Beatles musical Across the Universe? (It even uses that film's "With a Little Help From My Friends" cover.) Julie Taymor would like her check, please.

HIGH: Lauren Graham's crying abilities.
Lorelai Gilmore is dealing with a lot of emotional stuff in A Year in the Life: the death of her father, her stagnant relationship with Luke, a possible desire to have another child, a backpacking trip inspired by Cheryl Strayed, for some reason. All of this adds up to some meaty scenes for Lauren Graham, whether it's her quiet, teary introspectiveness while watching a musical number or that doozy of a monologue about Richard Gilmore, delivered via phone to Emily. The Gilmore revival only confirms what we knew after watching the original series, as well as NBC's Parenthood: When Lauren Graham cries, we cry a little, too.

LOW: The Stars Hollow musical that goes on forever.
I think I speak on behalf of America when I say that I will happily listen to Sutton Foster sing for almost any reason. But this truism really gets pushed to its limits by the dry run of Stars Hollow: The Musical, which also stars the delightful former Smash star and genuine musical-theater treasure Christian Borle. What could have just as effectively been conveyed in a quick two-minute medley of the deliberately absurd numbers gets dragged on for nine long minutes. By the time they got to the finish, complete with kick-line, I was ready to stab myself in the eye with a Rockette heel.

HIGH: Paris's everything.
Paris Geller was always a champion. Now, she's running a fertility clinic (which, okay, sure), living in a beautiful brownstone with her kids (aww), wearing some killer outfits (yes, good), and remaining as mad as ever (hooray!). If only she could just get over Doyle and Tristan …

LOW: Lane's life.
Poor Lane. We'd always hoped she'd tour the world, be the first female drummer inducted into the Rock and Roll Hall of Fame, then someday retire back to Stars Hollow a rock legend. Sadly, we last saw Lane married with twins in her early 20s and, well, not much more. At 32, Lane is still just Rory's emotional crutch, already using Lipitor (???), and still living in Stars Hollow where she will likely live out the rest of her days with Hep Alien as her biggest thrill. Ugh.
HIGH: The Bunheads cameos.
Ginny's a member of the 30-something gang! Sasha's running Sandee Says! Truly's hiking the PCH! We miss Bunheads!

LOW: Rory's fumbling attempts at journalism.
Rory was never a very promising reporter, but you would think she'd know not to fall asleep during an interview or sleep with a source, no matter how good he looks in a Wookiee suit. Oh, and we'd also hope that Gilmore Girls would know better than to have her interview at "Condé Nast," as if that were a single entity, or to depict digital journalism as something more than Sandee Says's hive of writers making "word honey." But hey, Sandee was definitely right to drop her offer to Rory after that terrible job interview.

HIGH: Sookie's cameo.
Melissa McCarthy's absence from much of A Year in the Life led to some pretty obvious write-arounds — did we really need that parade of real-life chefs? — but at least she made the very best of her few minutes onscreen. Nobody loves wedding cakes like Sookie, and nobody loves Sookie like everyone.

LOW: Rory deciding to write a book called Gilmore Girls.
(A) We get it. (B) We really didn't need the Social Network–inspired exchange where Lorelai tells Rory to drop the "the" from The Gilmore Girls to get it.

HIGH: The Sam Phillips wedding montage.
The final moments of A Year in the Life will be remembered mainly for those last four words and their implications. But before Rory announces her pregnancy and leaves the audience hanging forever in limbo, something really wonderful happens: Lorelai, Luke, and Rory drive through Stars Hollow, then explore the gauzy glow of the wedding-reception environment that's been created for Luke and Lorelai's big day, all while Sam Phillips's "Reflecting Light," the song that Luke and Lorelai first danced to back in season four, plays. The whole thing unfolds like a movie musical fairy tale, as if it could just as easily be a scene in La La Land as one in Gilmore Girls. It's awfully pretty.

LOW: The four damn words.
Okay, okay: There are some positive things to be said about those much-discussed final four words of A Year in the Life, including the way they bring the Gilmore Girls narrative back to where it started. But on first viewing, the information about Rory being pregnant is such a surprise, and it leaves the audience hanging at such an extreme 45-degree angle, there's really no way to respond without screaming at the television and/or mobile device on which you're streaming Netflix. Here's four more words: WHY? Why? Why? Why?

HIGH: Logan's abs.
Listen, we're not made of stone. (Also, did Matt Czuchry spend all of his free time during The Good Wife at the gym?)

LOW: The insensitive jokes.
At the pool in "Summer," Rory and Lorelai routinely make fun of the looks and weight of the people around them. In "Fall," the members of the Life and Death Brigade joke about a dancer who could be trans. Emily routinely says racist things about her maid Berta, and the show treats Berta's large family as the object of humor. None of this is funny, and it all underlines the privilege of Gilmore Girls' main characters, which the revival routinely takes for granted.

HIGH: Naomi Shropshire.
She's Rory's British muse, the source of the only piece Rory's seemingly ever written — a New Yorker "Talk of the Town" — she's Naomi fucking Shropshire. We meet this fantastic woman in London, where Rory's gone to work on a book proposal to write Naomi's biography (or children's book, depending on whom you ask). Like a true neurotic Brit, she's bursting with "nuance," drinks like a fish, has a reputation that would scandalize the queen, and utters melodramatic things like "you say that as if there is a tomorrow" after a breakup. Simply put, she's quite possibly the most interesting woman Rory's ever talked to so, of course, Rory blows it.

LOW: The lack of Jess.
It's just appalling. Again, we are not made of stone. 

LOW: No opening theme song.
Instead, we get title cards that announce "Winter," "Spring," "Summer," and "Fall" in a terribly cheesy font. The Palladinos clearly underestimated how much we need those opening bars of "Where You Lead" to let us know we're entering Stars Hollow. They do throw us a bone at the end — the song resurfaces right after the last four words are spoken — though you may be too appalled by Rory's announcement to register it. Hey, at least we have the internet.