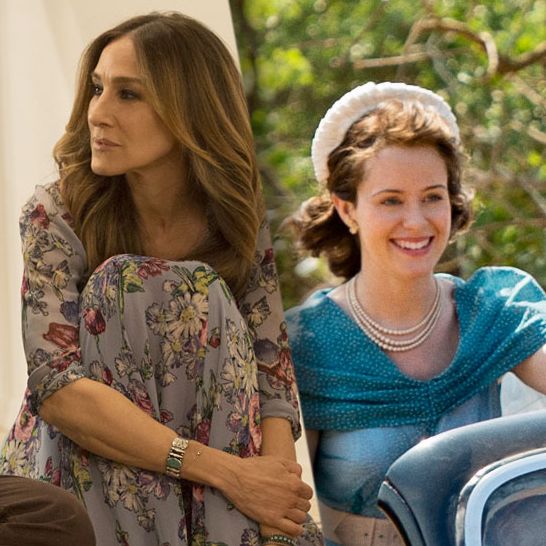 Divorce and The Crown.
Photo: HBO, Netflix
The Hollywood Foreign Press Association has earned its fair share of criticism over the years, but the group behind the Golden Globes deserves credit for at least one thing: expressing support for new and outside-the-box TV shows that often get overlooked by Emmy voters.
Last year on the TV drama side, almost every program (Narcos, Empire, Outlander, which had wrapped up the second half of season one in 2015) was nominated in its first year of eligibility, including the winner, Mr. Robot. In recent years, The Affair, Masters of Sex, American Horror Story, Homeland, and Boardwalk Empire were all either nominees or victor in the top drama category after a single season of existence.
That pattern also holds in the musical or comedy category, where newbies such as Casual, Transparent (which won), Jane the Virgin, Brooklyn Nine-Nine (also won), Girls (also won), and Smash have all earned nominations right out of the gate. Last year's winner, Mozart in the Jungle, earned the top prize for its second season, but given the relatively low din of conversation around that show, the award still came across as a surprise acknowledgment of something fresh and unheralded.
So when the Golden Globe nominations are announced this Monday morning, which brand-new shows will stand the best chance of capturing the HFPA's attention? Here's a rundown of the rookie dramas and comedies that have the best shot at landing on the Globes' short list.
Best Drama Series
The Crown: Globe voters like films and television shows that smack of prestige — especially of the British variety. Given the gorgeous (and reportedly costly) production values of this fine Netflix series about the rise of a young Queen Elizabeth II, The Crown definitely fits the bill. If nothing else, I certainly expect to see nominations for members of its cast, especially supporting actor John Lithgow.
Stranger Things: HFPA members are always eager to show they're on top of what's hot. Even though the Globes rarely tips its hat to entries in the sci-fi or horror genre, Stranger Things was such a phenomenon in 2016 that I expect HFPA members to vote for it, if only so they don't look totally out of it. (The Hollywood Foreign Press: They just want the cool kids who make Eleven references to like them!)
Westworld: The HBO drama is another show that fits in that prestige class: exceptional cast, high-caliber showrunners and producers (Jonathan Nolan, Lisa Joy, J.J. Abrams), and a concept steeped in the cerebral. Plus, people on the internet like it, or at least like to overanalyze it. The fact that its finale just aired would only add to the sense that this is a finger-on-the-pulse choice.
This Is Us: The most popular network drama of the fall season might seem like a shoo-in for a Golden Globe nomination, but given the Foreign Press Association's tendency toward edgier cable and streaming fare, I'm not sure it will make the cut. I still think This Is Us has a shot, just not as much of one as the other three new dramas listed above.
Best Musical or Comedy Series

Atlanta: A number of critics have called this the best show of the year, period. If it doesn't get a nomination, it may be because one of its greatest strengths — the fact that it's so specifically about African-Americans in a particular region of the United States — doesn't resonate with the primarily European members of the Hollywood Foreign Press. Still, I'm betting it will make the list.
Better Things: FX's other new, brilliantly observed fall comedy is certainly deserving, but it has a tougher hurdle to overcome than Atlanta. For one, it's less buzzy. Also, what are the odds that a series from Pamela Adlon and Louis C.K. will get some love from the Hollywood Foreign Press when C.K.'s Louie, a show with a sensibility akin to a little French film, never got any?
Insecure: Issa Rae's exploration of African-American ambition, identity, and partnership in contemporary L.A. enjoyed a very solid first season. It's worthy of a nomination and, having just concluded its initial run of episodes two weeks ago, definitely has that fresh-out-of-the-oven vibe. It's possible more than one female-driven comedy will be nominated this year, which would be nice. But if I had to put my money on the one that's most likely to get a nod, I would go with …
Fleabag: Phoebe Waller-Bridge's fourth-wall-breaking, emotionally shattering comedy is terrific. It's also a daring British import that streamed in the U.S. on Amazon, a combo that gives it an unexpected outlier status that may make it extra-irresistible to Globe voters, several of whom write for U.K.-based publications. Fleabag is exactly the kind of show that, if nominated, will make more than half of Americans go, "What the hell is Fleabag?" Which is exactly why it has a good chance of being nominated.
Divorce: Divorce? That dismal HBO show about marital discord that few people watch and some critics didn't like very much? Yes, Divorce. Three words here: Sarah Jessica Parker. The HFPA nominated Sex and the City for best comedy six times and gave it the Globe in that category three times. Sarah Jessica Parker won a Globe for playing Carrie Bradshaw four times and was nominated on seven occasions, one for each year Sex and the City was on the air. (Its sixth season played out over two separate years, in case you're trying to do the math on that.) Historically speaking, the Hollywood Foreign Press loves SJP and that could carry the day for Divorce, or at least for another best actress nomination for Parker.
The Get Down: Uh, isn't this a drama? Well, here's where things get tricky. Tonally, yes, Baz Luhrmann's needle drop on the early hip-hop era skews more toward drama than comedy. But the category, as defined by the Globes, is "musical or comedy." If voters categorize The Get Down as a musical and deem its ambitious sense of verve award-worthy, it could wind up on this list. If they, like me, consider it more of a drama, it might wind up in that category instead. (By the way, Netflix's for-your-consideration site, which lists all of its trophy-eligible shows by genre, doesn't even have The Get Down on it. So that doesn't clarify matters.)
Or, like a lot of very good shows in a very competitive year, The Get Down could wind up with no nominations at all. It had a mountain of hype behind it, then, weirdly, didn't move the Zeitgeist dial at all. Globe voters appreciate new series, but they are most attracted to ones that still have some heat on them. The Get Down may simply be too cold to get a mention come Monday.