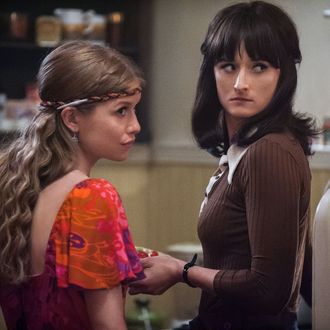 Photo: Colleen Hayes/Amazon
Amazon has quelled the Good Girls Revolt: Barely a month after its launch, the streaming network has canceled Dana Calvo's period drama about a group of female journalists battling newsroom sexism at a 1969 newsmagazine, a source with knowledge of the decision tells Vulture. It's a swift and somewhat stunning decision on multiple levels. First, streamers such as Netflix and Amazon (and most cable networks these days) generally give all new series at least two seasons to connect with audiences. Killing a show after just one cycle is exceedingly rare, though Amazon video chief Roy Price has proven himself prone to quick executions: He canceled Shawn Ryan's Mad Dogs after one season and rescinded a series order for Chris Carter's promising pilot The After before the show even premiered. GGR's cancellation now cements Amazon's reputation for being most like traditional broadcast networks when it comes to nurturing new shows (or, more precisely, not nurturing them).
But the other reason the death of GGR is such a surprise is that the show has only been streaming since October 28, which means Amazon has very little viewership data on which to make a decision. Streaming networks have made much of the fact that they don't need audiences to start watching a show immediately, given the non-linear nature of their platform and their non-reliance on advertising. What's more, GGR premiered with minimal promotion from Amazon right as the presidential election was sucking up all sorts of media oxygen. Many of the older viewers with whom the show might have resonated might not have realized it had premiered or had the time to check it out. That's the thing with binge-based TV: Audiences have been trained to know they don't need to watch a show immediately. By making a decision so quickly, Amazon seems to be saying: No, you really should watch ASAP.
While GGR appears to be dead at Amazon — a rep for the streamer couldn't immediately be reached for comment — producer Sony Pictures Television is still hoping to continue production of the show. A source close to the studio says it will try to buy back rights to the series and shop a second season to another network. GGR generated mostly positive critical notices, though Vulture's Jen Chaney wasn't overly impressed. While she praised "some smart moments," she noted that "most of the time, watching Good Girls Revolt involves imagining what kind of series it could be rather than appreciating what it is." Unless Sony is successful setting up the show elsewhere, we'll now never know whether the series could evolve into something more.