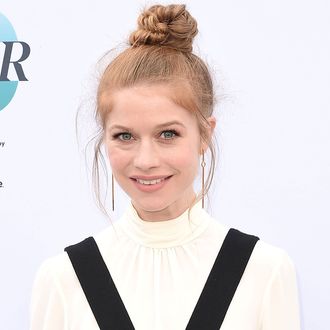 Photo: David Crotty/Patrick McMullan via Getty Images
Like many others, Good Girls Revolt star Genevieve Angelson was blindsided last week when Amazon unceremoniously pulled the plug on the Mad Men–esque '60s newsroom drama shortly into its first season.
"It doesn't make any sense," Angelson, who starred on the show as aspiring reporter Patti, said on Monday at Equality Now's 3rd Annual "Make Equality Reality" gala at the Montage Hotel in Los Angeles. "I am a New Yorker, I am not naïve. I know sometimes shows get canceled. I've been on canceled shows before. This one didn't make any sense because the numbers that were linked to us show that by every measure our show was a hit. Like, a total hit."
The numbers Angelson cites were compiled by Symphony Advanced Media, a third-party streaming monitor. (Like Netflix, Amazon does not share its ratings.) Series creator Dana Calvo told The Hollywood Reporter, "We were all so surprised because we were a hit." In the same Hollywood Reporter piece, Amazon's head of comedy and drama Joe Lewis rebutted, "I can tell you that the Symphony numbers being reported are wrong and that the show wasn't performing at the levels we had hoped for — either in total viewership or completion rates."
As Calvo mentioned in the THR piece, Angelson was also suspect of how familiar Amazon execs were with the show. "When higher-ups claim they didn't know the names of any of the characters on the show, it makes me wonder if the demographic we were successful with even matters to them," she said, referring to Symphony's assessment that the show was doing well with the female 18–49 demo.
Since news broke that the show won't be moving forward at Amazon, fans have rallied to resurrect it at another network. Should they get a second season, Angelson has some ideas for the period show that would also reflect our current political reality.
"We have to find a way in the storytelling of season two to bring in the inner sexism of women," she said. "It was women who elected Donald Trump, so if we can find a way to incorporate that narrative into the show, the way that we hate ourselves before men can hate us, and sometimes even more. We can hate ourselves in a really willing and active way."