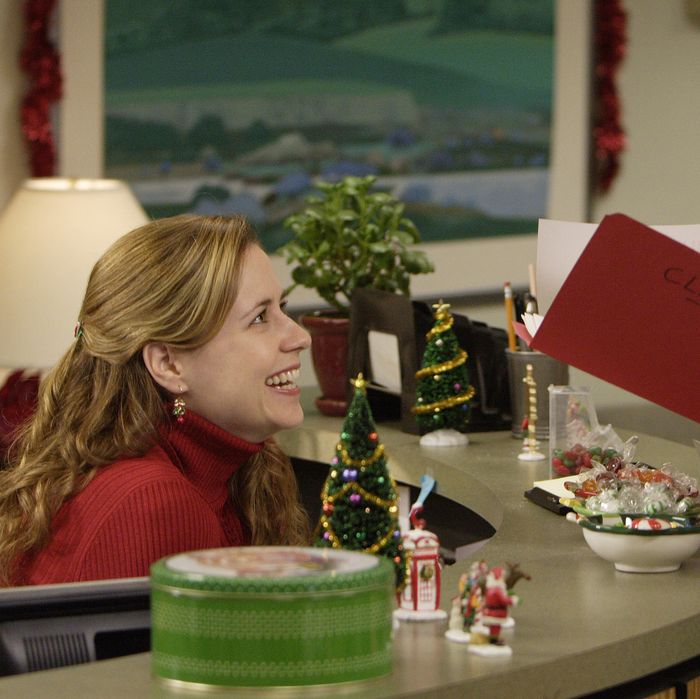 The Office, "A Benihana Christmas"
Photo: Paul Drinkwater/NBC via Getty Images
It's no secret that holiday episodes can be pretty terrible. As BoJack Horseman put it in the BoJack Horseman Christmas Special, "Holiday episodes are always stupid, cynical cash grabs by greedy corporations looking to squeeze a few extra Nielsen points out of sentimental claptrap for mush-brained idiots who'd rather spend their Christmas watching a fake family on TV than actually trying to have a conversation with their own dumb families."
But you know what? Sometimes you just need to put something on TV while you're wrapping presents, and you don't have two hours to finish It's a Wonderful Life. Or sometimes, as Todd told BoJack, "I like it when people on TV hug each other." It's nice to watch that, too.
With that in mind, here's a list of 19 excellent Christmas episodes of TV comedy.
Arrested Development, "Afternoon Delight" (Season 2, Episode 6)
This one checks all the boxes for classic holiday fare. It's got inappropriate karaoke, Mae Whitman singing weird songs about the baby Jesus, pot brownies, carnival games, and Gob setting what must be a record for number of times "Come on!" is said in a single episode of Arrested Development. Really, isn't all of that what Christmas is about? Well, that and Jessica Walter blowing an air horn directly into David Cross's ear.
Seinfeld, "The Pick" (Season 4, Episode 13)
"The Strike," a.k.a. the Festivus episode, gets credit for kickstarting an entirely new holiday tradition, but "The Pick" is a more straightforward Christmas installment. It features the original wardrobe malfunction — sorry, Janet Jackson, Elaine Benes beat you to it with her holiday photo nip slip — and the words that every overwhelmed reveler says at some point in December: "You want a Christmas card? All right, here. Here's your Christmas card."
The Simpsons, "Grift of the Magi" (Season 11, Episode 9)
"Simpsons Roasting on an Open Fire" may be a holiday tradition — after all, it's the very first episode of this long, long, long-running animated series — but the one with Funzo and Gary Coleman is more in line with the sensibilities that later defined The Simpsons. With its withering indictment of the way corporate America manipulates children, especially during the holidays, it's also just plain funnier, with the obvious exception of some very unfortunate and outdated gay jokes. "Grift of the Magi" also offers one of the best endings of any TV holiday episode: Coleman turning to camera and saying, à la Tiny Tim, "Whatchoo talkin' 'bout, everyone?"

The Office, "A Benihana Christmas" (Season 3, Episode 10)
Sure, the Yankee-swap episode from season two is great. But this extended Christmas-themed episode has so much to offer: dueling office-holiday parties, "Nog-a-sake" shots at the Scranton Benihana, and Steve Carell as Michael in peak dejected jackass mode following a sudden breakup.
The Wonder Years, "Christmas" (Season 2, Episode 3)
When I was in high school, my friends and I spent weeks trying to convince our English teacher to watch The Wonder Years. For whatever reason, she resisted. She finally caved the week that "Christmas" — in which Kevin tries to find the perfect gift for Winnie and convince his dad to buy a color TV — aired for the first time. The next day in class, she thanked us and said it was one of the best episodes of television she'd seen in years. I think about that every time I watch this. When I'm not weeping while Kevin opens his present from Winnie, that is.
Black-ish, "Stuff" (Season 2, Episode 10)
Christmas is too commercial: That's a theme in just about every holiday special ever made. But Black-ish puts its own fresh, funny spin on it, pitting Pops's modest, old-school Christmas (which involved Church's chicken and giving his son jars of pickles as gifts) against Dre's lavish, new-school one, which is driven by a need to feed his kids' appetite for "stuff." This episode also features a rousing round of "Happy birthday, black Jesus" and a healthy dose of Wanda Sykes, because Black-ish Christmas is a gift that keeps on giving.
Unbreakable Kimmy Schmidt, "Kimmy Goes to a Hotel!" (Season 2, Episode 8)
This isn't a Christmas episode so much as a Fake Christmas episode. There's still plenty of tinsel, along with tube socks that double as Christmas stockings, a Christmas Carol spoof that casts Tituss as Scrooge, and a funny riff on Dawson's Creek, complete with an appearance by Joshua Jackson, which is obviously the best (fake) Christmas present of all.
Parks and Recreation, "Citizen Knope" (Season 4, Episode 10)
There's always one person who is so ridiculously thoughtful about holiday shopping that she puts everyone else to shame. On Parks and Rec, that person is Leslie Knope. Of course, her co-workers do their best to show their gratitude by one-upping her with gingerbread and an It's a Wonderful Life–esque moment at the end of this terrific episode. Also, Jean-Ralphio makes an appearance, and his hair is a true Christmas miracle.
The BoJack Horseman Christmas Special
Naturally, this BoJack one-off has to be included, even if it acknowledges that holiday specials are stupid, cynical cash grabs. It's also a half-hour that allows us to watch BoJack and Todd watching a holiday episode of BoJack's '90s sitcom, Horsin' Around, so it's really two holiday episodes in one. Plus, the comedy in Horsin' Around is timely, especially this one-liner: "I'd say your odds are about as a good as a Democrat being elected president!"
Community, "Abed's Uncontrollable Christmas" (Season 2, Episode 11)
Abed (Danny Pudi) tries to find the meaning of Christmas in a clever stop-motion episode that turns members of the Greendale Community College gang into Misfit Toys and also, briefly, implies that the spirit of Christmas can be found in a DVD of the first season of Lost. Abed, clarifies, however, that it's just a metaphor for the holiday season's "lack of payoff."
30 Rock, "Christmas Special" (Season 3, Episode 6)
30 Rock celebrates Christmas the only way it knows how: with Jack (Alec Baldwin) accidentally hitting his mother (Elaine Stritch) with a car, Liz (Tina Fey) using a Letters to Santa program to turn herself into a white savior, and a hastily put-together live TGS Christmas special.
Cheers, "The Spy Who Came in for a Cold One" (Season 1, Episode 12)
For those who appreciate Christmas episodes that don't hit the yuletide too hard, this Cheers installment is a solid choice. It's set during the holidays, as all the garland and tinsel hanging around the bar confirms. But the main story line — about a Cheers newcomer who drops in and tells various lies about his background — isn't the stuff of typical holiday sitcom episodes, even though it does touch on an issue semi-relevant to Christmas: how much faith to place in things that sound too good to be true.
Family Ties, "A Keaton Christmas Carol" (Season 2, Episode 9)
This episode of the '80s sitcom is exactly what it sounds like: a reimagining of the Charles Dickens classic, with Alex (Michael J. Fox) as the resident Scrooge and his sisters, Jennifer (Tina Yothers) and Mallory (Justine Bateman) serving as Ghosts of Christmas Past and Future. The part when a younger Christmas Past Alex refers to Watergate as a "witch hunt" seems particularly relevant in 2017.
Veep, "Camp David" (Season 5, Episode 8)
This season-five episode manages to capture awkward family gift exchanges and awkward gift exchanges between countries, as Selina (Julia Louis-Dreyfus) uses her family Christmas retreat as an opportunity to also entertain a delegation from China. And by entertain, I mean hand them a bunch of crappy presents they don't want — a geode, wine from New Zealand — and that signify absolutely nothing about America.
Will & Grace, "Jingle Balls" (Season 4, Episode 12)
Parker Posey guest stars as Jack's boss at Barney's, and inexplicably puts him in charge of creating the holiday window displays. Will and Grace also argue about whether Grace is too judgmental of Will's relationships, which makes this like basically every other Will & Grace episode, except in this one, Will and Grace disagree in front of a mantel decorated with garland.
Crazy Ex-Girlfriend, "My Mom, Greg's Mom, and Josh's Sweet Dance Moves!" (Season 1, Episode 8)
The one where Rebecca Bunch's super-judgmental mom (Tovah Feldshuh) comes to visit, Rebecca (Rachel Bloom) convinces Paula (Donna Lynne Champlin) to pretend she's British, and the episode concludes with a splashy, full-ensemble holiday number called "California Christmastime." ("California Christmastime/We gather round and sing songs by Sublime!") What more could you want?
Friends, "The One With the Holiday Armadillo" (Season 7, Episode 10)
Some of the best holiday traditions have been invented by TV shows. Seinfeld gave us Festivus, The O.C. gifted us with Chrismukkah, and thanks to this episode of Friends, households around the country rejoice every year during the annual visit from the Holiday Armadillo. (Okay, not really. This episode is still amusing, though.)
The Office, "Christmas Party," (Season 2, Episode 10)
The Office has so many terrific Christmas episodes that it seems appropriate to feature two on this list. This one, penned by The Good Place's Michael Schur, is about a Dunder Mifflin Christmas party that goes terribly awry thanks to Michael's purchase of an iPod (highly coveted in the mid-aughts) and a Secret Santa exchange that turns full White Elephant.
Fresh Off the Boat, "The Real Santa" (Season 2, Episode 10)
Evan, the youngest child in the Huang family, becomes confused after his mother Jessica (Constance Wu) tells him Santa is Chinese, but his white friends at school say that's wrong. Which is why Jessica invents Lao Ban Santa, or Boss Santa, the female Chinese CEO who oversees all the white male Santa Clauses, and who also drives a Chrysler LeBaron. Kudos to Fresh Off the Boat for making the rare Christmas episode that considers other cultural perspectives about holiday traditions.