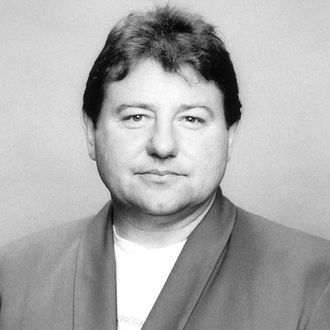 R.I.P.
Photo: Robert Knight Archive/Redferns/Getty Images
Greg Lake, the versatile star of pioneering English prog-rock bands King Crimson and Emerson, Lake and Palmer, has died at 69. His manager, Stewart Young, confirmed the news in a note on Lake's Facebook page, announcing that Lake died on Tuesday, December 7, following a "long and stubborn battle with cancer." Lake first gained prominence as the front man of King Crimson, which he founded in 1969 with classmate and guitarist Robert Fripp, and went on to sing, play bass, and write songs on the band's debut album, In the Court of the Crimson King, setting an early standard for the kind of prog-rock that emerged out of the U.K. in the 1970s and would turn Lake into a star. The Who's Pete Townshend famously called the record, and particularly its standout "21st Century Schizoid Man," an "uncanny masterpiece." Following a dispute over the band's lineup change and having already crossed paths with Nice keyboardist Keith Emerson while on tour, Lake left King Crimson less than a year later to form Emerson, Lake and Palmer with Keith Emerson and drummer Carl Palmer. (Lake did record vocals for King Crimson's sophomore album, In the Wake of Poseidon, before formally quitting.)
With Emerson and Palmer, Lake became one-third of one of the most influential prog-rock bands of the '70s and expanded his talents from front man, bassist, and lyricist to include producer. They released their first self-titled album in 1970 and went on to score hit albums with 1971's Pictures at an Exhibition, 1972's Trilogy, and 1973's Brain Salad Surgery — all produced by Lake — while earning a reputation for their theatrical live performances featuring ambitious, famously expensive light shows and over-the-top charisma. Though ELP only lasted the decade, the group eventually sold more than 48 million records and occasionally reunited in the 1990s, last performing together in 2010 for their 40th anniversary. In March, Emerson committed suicide at 71.
Lake, who was born in Bournemouth, Dorset, in England in 1947 and took up guitar playing at 12, went on to have some solo success. His legacy has particularly endured in England around this time of year for his 1975 holiday song, "I Believe in Father Christmas," which became a surprise hit despite the song's anti-commercial protest. "As much as I love everyone having a good time, it's about more than 12 pints of lager and a crate of Baileys. It's more important to make some spiritual human contact, or visit someone lonely," Lake recently told the Guardian. "We never had any commercial or financial intentions, but of course, now everyone wants to know how it feels to receive all the lovely royalties, which are apparently delivered by wheelbarrow by Santa himself, after a long day climbing down everybody's chimneys." He most recently toured a one-man career retrospective, "Songs of a Lifetime," and released an autobiography in 2012 named after the ELP song "Lucky Man."