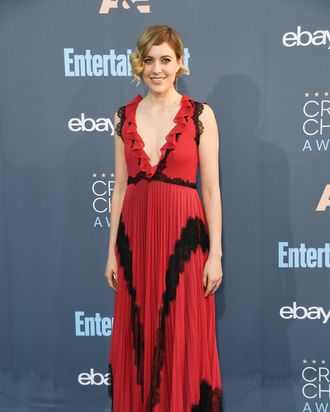 Greta Gerwig at the CCAs.
Photo: Frazer Harrison/Getty Images
Is anyone safe from the critics? "I'll tell you what is critic-proof," Greta Gerwig told Vulture at the Critics' Choice Awards. "Meryl Streep and Cate Blanchett are now in a category of just national treasures that we don't criticize. And they should be." Gerwig was nominated for Best Supporting Actress at the CCAs for 20th Century Women, where she eventually lost to Viola Davis for Fences. Despite getting critical praise for her performance (and also starring in another awards-season heavyweight Jackie), Gerwig doesn't think she'll ever be as good as actors like Streep or Blanchett.
"I often wonder, do they ever get insecure? Because no one has ever said anything bad about them, and they shouldn't say anything bad about them," said Gerwig. "But the rest of us, down here, all have to deal with 'Oh, a lot of people don't like it — a lot of people.'" Gerwig continued, "And me? I have no hope of ever being as good as those women. I've known that you can only ever be who you are. I try to do the best work I can with what I've got. Billy Crudup and I are both in Jackie and 20th Century Women, but we feel that it's the two of us that really support the great actresses of our generation, Annette [Bening] and Natalie [Portman]!"