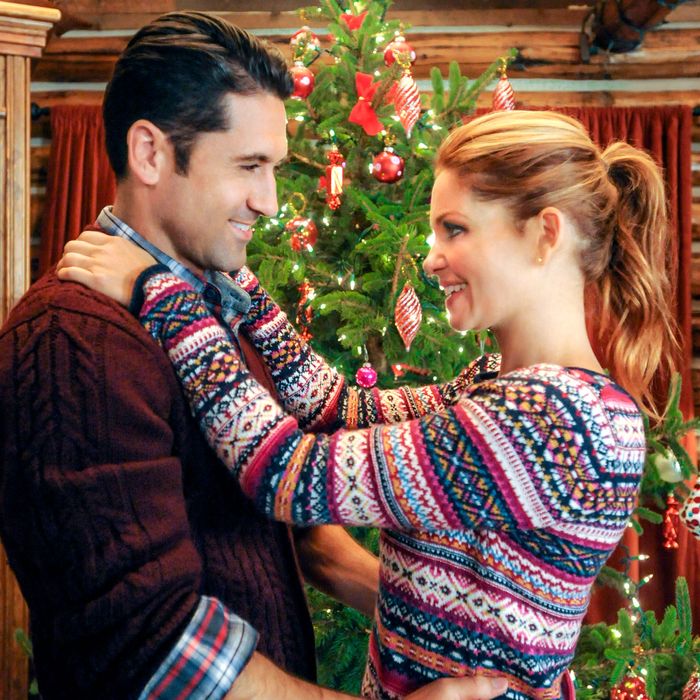 David O'Donnell and Candace Cameron Bure in Christmas Under Wraps.
Photo: Fred Hayes/Crown Media
The great thing about Christmas is that it's always the same. You go to the same parties, you visit the same relatives, you open yet another sweater from your mother that doesn't fit because she hasn't mentally updated your clothing size since you were a teenager. It's a nice tidy formula, as comforting as a gulp of eggnog.
The same is true for Christmas movies on the Hallmark Channel. Every year, Hallmark gives itself over to Yuletide cheer and commissions more than a dozen new movies to air throughout the holiday season. Each of these movies is pretty much identical, which makes them all incredibly appealing — and, yes, a tiny bit frustrating. To better understand the formula, here are the ten essential things that you'll find in every Hallmark Christmas movie.
A '90s actress you almost forgot about
The lead character in these movies is always a woman, and that woman usually has a long IMDb page. Thank God for Hallmark Channel or else Lacey Chabert (Party of Five), Danica McKellar (Wonder Years), and Alicia Witt (Cybill) would have nothing to do. Even Anne Heche and Kristin Davis joined the ranks this year. Of course, the patron saints of the Hallmark Christmas Movie are Full House alums Candace Cameron Bure and Lori Loughlin, who also stars in Hallmark's non-holiday series When Calls the Heart.
A hot actor you (probably) don't know
While the actresses usually hail from some nostalgic provenance, their hunky romantic partners are almost always plucked from obscurity. George Stults (I'm Not Ready for Christmas) is a hot blonde with a predilection for baring his butt on Instagram. Sam Page went on to co-star in Mad Men, House of Cards, and Switched at Birth after he starred in 2011's Annie Claus Is Coming to Town. Michael Rady, late of UnREAL season two, dropped by for Christmas in Homestead. Andrew Walker and Luke Macfarlane haven't done much since Sabrina the Teenage Witch and Brothers & Sisters, respectively, but they're still around for ogling every December.
A town with a dumb name
In the Hallmark Channel universe, there is actually a town called Cookie Jar and the characters in Christmas Cookies somehow manage to say it over and over again with straight faces. In Christmas Under Wraps, a doctor is forced to go work in Garland, Alaska. Nice try. Every Christmas Has a Story features a journalist working on a profile of the town with the most holiday spirit: Hollyvale, North Dakota. That sounds like a place where cartoon cats would live. Christmas in Homestead is about — you guessed it — going home for Christmas in Homestead, Iowa. Okay, that one might actually exist.
A failing family business
Now that the leads are in place, this thing needs a story. No matter the movie, it usually involves some mom-and-pop operation that a corporate behemoth wants to put out of business. It could be a Christmas cookie company that's being sold and moved to Buffalo, a toy store in danger of shutting down, a department store that will close if its window displays aren't amazing, a Christmas tree lot whose rent has been jacked up, or a ski lodge that wants to maintain its very Christmassy feel. There are even two different movies — Christmas Land and Moonlight & Mistletoe — about holiday theme parks going out of business. Our lead actress is often the agent of change who revitalizes the business, either by providing some essential skill or convincing her evil employers that Christmas is better than consumerism.
A dead spouse
The lead needs to fall in love, but she also needs to have a child or two because kids love Christmas and everyone roots for a single mother. How do you make a character single, sad, and with kids? Dead spouse. Sometimes she doesn't even need kids, like in The Christmas Ornament, where a young widow tries to find love again. The formula also works for men: After his wife dies, James Van Der Beek learns to love his kids' teacher in Debbie Macomber's Mrs. Miracle. Any time you see a single parent in a one of these movies, just wait to find out how the other parent bit it. It's always sad.
A supernatural element that changes everything
Sometimes it's an elf that comes from the North Pole to lend magical Christmas cheer services, like in Northpole and its sequel, Northpole: Open for Christmas. Sometimes it's a woman who is training to become a Christmas angel, like in A Heavenly Christmas. Sometimes Santa grants a wish and a woman who can no longer lie (I'm Not Ready for Christmas), finds the ability to stand up for herself (A Wish for Christmas), or wakes up to find she's no longer married (A Dream of Christmas). It's a grab bag, really.
White people
The casting of a Hallmark movie gives a whole new meaning to the idea of "white Christmas." Occasionally, one of the lead characters will have a black best friend, but it usually looks like a GOP congressman's staff Christmas card.
Terrible babysitting skills
No Hallmark movie would be complete without a sledding or skating montage. What better way to fall in love than by tumbling to the ice together? Typically, the new couple will take a child to do some cold-weather activity, but then they'll immediately forget about said child in lieu of flirting. Just look at Northpole, Christmas Cookies, and Annie Claus Is Coming to Town for proof that Hallmark couples are the world's worst babysitters.
A personal family trauma
If you want to convince people that Christmas is awesome, you first need a character who hates Christmas. Ideally, that character will mourn a spouse who died around December 25, but there are plenty of other options. Expect to see people getting dumped just before gift giving, parents buying the farm during the holidays, or even a father chewing out his son over Christmas dinner for not joining the family business. Spoiler alert: That last one is what happens in A Wish for Christmas. Don't worry, there's still a happy ending after two hours (with commercials).
Straight people falling in love
It's a Christmas miracle!