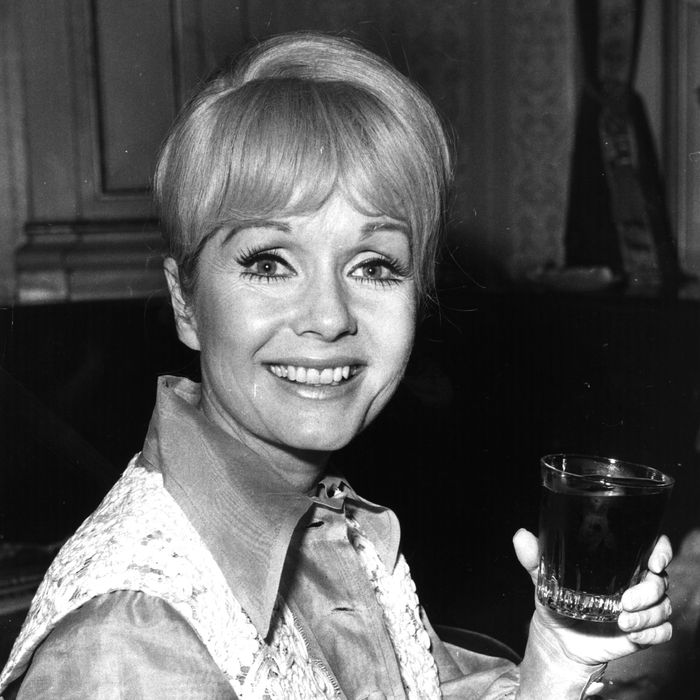 Photo: Central Press/Getty Images
In the course of gathering material for our After Midnight issue last year, we talked to Harvey Fierstein about what it was like to hang out after hours in the theater district. When he started making a name for himself with Torch Song Trilogy (both off- and then on Broadway), the writer/actor became fast friends with, among others, Debbie Reynolds. Fierstein told us about one memorable evening in 1983, when their late-night adventures caused a bit of a stir. His account lies in full below.
The theater hangout where we would go was Phoebe's. But if you were a little classier, which none of us were, you'd go to Lady Astor's. And in the theater district, the great hangout, for us anyway, was Ted Hook's Backstage. Ted Hook was an MGM contract extra singer-dancer, and he used to point himself out in movies, he had red hair and he did stick out, and then he became the personal assistant to Joan Blondell, and then he became the personal assistant to Tallulah Bankhead, until her death. And he opened a restaurant called Ted Hook's Backstage, which is next to where Kinky Boots is now, the Hirschfeld Theater, which was then the Martin Beck Theater.
There was a white grand piano as you came in, there was a bar, and there was a restaurant. It was a restaurant bar. And all the tables had these little lamps on them, little individual lamps. They were battery-operated. And every lamp had a lampshade, and what he would do was get press-on letters, and if you were a star, he would put your name on a lampshade, and they kept them in alphabetical order in the backroom. So if like Cher walked in the door, he went to the C section, got Cher's lampshade, put it on a lamp, and stuck it on her table. It sort of made you feel more like a star. It was very cool.
So Jerry, the pianist, would play, and you would all drink, and because I was doing Torch Song, we didn't get out of the theater until almost 11 p.m. And we would close that place down, many nights. We'd be there until almost four in the morning. We had unbelievably great times there, just the wildest times. I used to hang out there, and you'd have a table that was like, Rip Taylor and Barry Manilow and Chita Rivera and Debbie Reynolds. It was that kind of a scene, because Ted really took care of you. The food was eh, the bread was stale … [Laughs] I don't know why he always bought yesterday's bread, like, that's where you're going to save your money?! But the drinks really flowed, and he really took care of you. I remember my first year on Broadway, I was all upset that I was going to miss Thanksgiving with my family, it was the first time I was ever going to miss Thanksgiving with my family, and he said, "You come over to my restaurant." So I went over after the performance, and there was my whole family sitting at a table, and he had cooked up Thanksgiving dinner. So it was really great.
One night, we were out, Debbie Reynolds had replaced Lauren Bacall in Woman of the Year, so she was performing and we went out after the show. I think Lee Roy Reams was there, sort of egging her on — not that you had to push Debbie very hard to get her to perform. But somebody was egging her on. And she got up on the piano, and began doing Dietrich. She does all these amazing imitations. And she was singing and carrying on, and we were there until at least 4:30 in the morning.
I took a cab home to Brooklyn. I went to bed. I woke up in the morning, and I was lying in the bed and turned the TV on, and there was this announcement on the television that Debbie Reynolds had been taken to the hospital. That they feared she'd had a heart attack. And she would not be performing that day, that she would not be doing the matinee of Woman of the Year, because she had been taken to the hospital. And so I jumped up, and I looked through my phone book, and found Carrie Fisher's phone number. I called her immediately. I said, "Don't worry, Mom's fine, it's just a hangover!" Because we'd been drinking four hours before that! I called Carrie so she wouldn't worry. But we had a lot of fun.