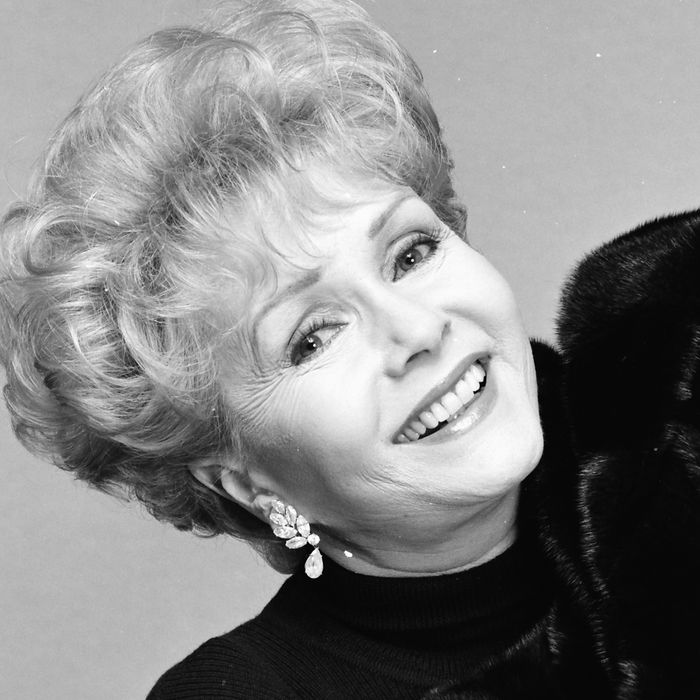 Photo: Jack Mitchell/Getty Images
Actress, singer, and old Hollywood icon Debbie Reynolds died today at age 84, TMZ reports. Just one day after her daughter, Carrie Fisher, died in a Los Angeles hospital as a result of a heart attack, Reynolds experienced a stroke and was subsequently rushed to the hospital. She remained under medical care for several hours before her death was confirmed this evening. Following her passing, Reynolds's son, Todd Fisher, told Variety, "She wanted to be with Carrie."
Across her decades-long career, Reynolds was a star of stage and screen. Born in El Paso, Texas, she moved to California at just 16 years old and became a beauty-pageant queen in the Los Angeles–adjacent city of Burbank. As the newly minted Miss Burbank, she caught the eye of Warner Bros., the studio that cast her in her first film, and from there built the kind of career that young women watching movies during the Golden Age of cinema could only dream about.
Reynolds rose to fame in the 1950s when actors signed on with studios for extended periods of time and made picture after picture as in-house talent for giants like MGM, Paramount, and RKO. Reynolds only made one film with her first studio, The Daughter of Rosie O'Grady for Warner Bros., but her second contract, with MGM — the most powerful studio of the era — catapulted her to fame. Reynolds appeared in two well-received musicals in 1950, Two Weeks in Love and Three Little Words, before breaking out in 1952's Singin' in the Rain at just 19 years old. With that, Reynolds became one of the decade's defining triple-threat talents, starring in nearly ten more musicals, landing on the Billboard charts with songs like "Tammy" (from the musical Tammy and the Bachelor) and "A Very Special Love," and recording her first album, Debbie, in 1959.
By the 1960s, Reynolds had opted out of the studio system, but continued to be prolific throughout the decade as a freelance actress — particularly when it came to her wheelhouse of musicals and comedies — even garnering a Best Actress Academy Award nomination for her work in The Unsinkable Molly Brown, from 1964. Toward the end of that decade, Reynolds also started wading into television, which would define the second act of her career.
The Debbie Reynolds Show, which launched in 1969 and only lasted one season, was the star's first major TV project, but the small screen is where Reynolds would work most frequently over the remaining 46 years of life, appearing on shows like The Love Boat, Rosanne, and Will & Grace ,and lending her voice to programs such as Rugrats and Family Guy. (Reynolds, of course, was not entirely absent from the big screen, and delivered two of her best later-career performances in Mother and In & Out.) She also took stage roles in shows like Irene, which landed her a Tony nomination for Best Lead Actress in a Musical.
Much like her daughter, Carrie Fisher, Reynolds's personal ups and downs were also well-chronicled for public consumption. Her first husband, Eddie Fisher (father of Carrie and her brother, Todd), infamously ran off with Elizabeth Taylor, and her second and third marriages not only brought about personal but also financial hardships. There was also the Debbie Reynolds Hotel and Casino in Las Vegas that didn't work out, which prompted the star to file for bankruptcy protection in 1997.
But perhaps the most complicated relationship of Reynolds's life was the one she shared with her daughter, who spoke publicly about the difficulty of having a frequently absent working mother, and one that fans felt they could lay claim to as belonging to them. "It was complicated to go out in public with my mother because she was so famous. She belonged to the world. It was like being in a parade," Fisher once wrote in an article for The Daily Mail. "So it was not like having private-time with Mom. And I didn't like sharing her." Despite the struggles, however, Reynolds and Fisher remained close throughout their lives, and at the time of their deaths lived in side-by-side houses in L.A. The two even worked together on a documentary that premiered this year at Cannes called Bright Lights: Starring Carrie Fisher and Debbie Reynolds, and it was a project Fisher pursued in part because of Reynolds's mounting health problems. Fisher even included this wry tribute to her mother in the acknowledgments of her latest book, Princess Diarist, which came out just last month: "For my mother — for being too stubborn and thoughtful to die. I love you, but that whole emergency, almost dying thing, wasn't funny. Don't even THINK about doing it again in any form."
But clear to the end, Reynolds was, as Molly Brown before her, unsinkable. She endured personal and professional hardships but never stopped performing. In addition to being an Oscar and Tony award nominee, Reynolds also received Lifetime Achievement honors from both the Screen Actors Guild and the American Comedy Awards. She was also a generous philanthropist, devoting decades of her life to helping raise awareness for mental-health issues through organizations like the Thalians. She was honored with the Academy of Motion Picture Arts and Sciences Jean Hersholt Humanitarian Award in 2015. Reynolds was also a dedicated film historian, who at one time had amassed and curated the largest collection of Hollywood memorabilia in the world.
Debbie Reynolds spent her life as the consummate star with an image forged in the fires of the rigorous mid-century studio system. She became America's Sweetheart, and then was one half of America's Sweetheart couple with her first husband. But in addition to being an all-around entertainer she was also a humanitarian, an entrepreneur, a fitness queen (don't forget to Do It Debbie's Way!), a mother, and a grandmother. Debbie Reynolds, the Hollywood legend, is survived by her son, Todd Fisher, and her granddaughter, Billie Lourd.