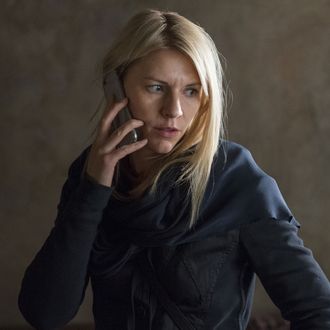 Photo: Stephan Rabold/SHOWTIME
In a recent roundtable conversation with the New York Times, a handful of showrunners and entertainment professionals were assembled to discuss the topic of Muslim representation on television. Quantico showrunner Joshua Safran said that it's policy on his show to never feature Muslims as terrorists, and Howard Gordon, the co-creator of Homeland and an executive producer of 24, expressed his own concerns that his hit shows can enable regressive thinking and stoke xenophobic fears. When Gordon was asked if he was worried about Homeland being fodder for increased attacks against Muslims, Gordon said, "The short answer is, absolutely, yes," before elaborating with the longer version.
On Homeland, it's an ongoing and very important conversation.

For instance, this year, the beginning of it involves the sort of big business of prosecuting entrapment. It actually tests the edges of free speech. How can someone express their discontent with American policy — even a reckless kid who might express his views that may be sympathetic to enemies of America, but still is not, himself, a terrorist, but is being set up to be one by the big business of government?

For me to answer, personally, that question, it's a difficult one. 24 having been the launching point for me to engage in these conversations, which I have been having for 10 years, and being very conscious about not wanting to be a midwife to these base ideas. We're all affected, unwittingly, by who we are and how we see the world. It requires creating an environment where people can speak freely about these things. It requires this vigilant empathy.