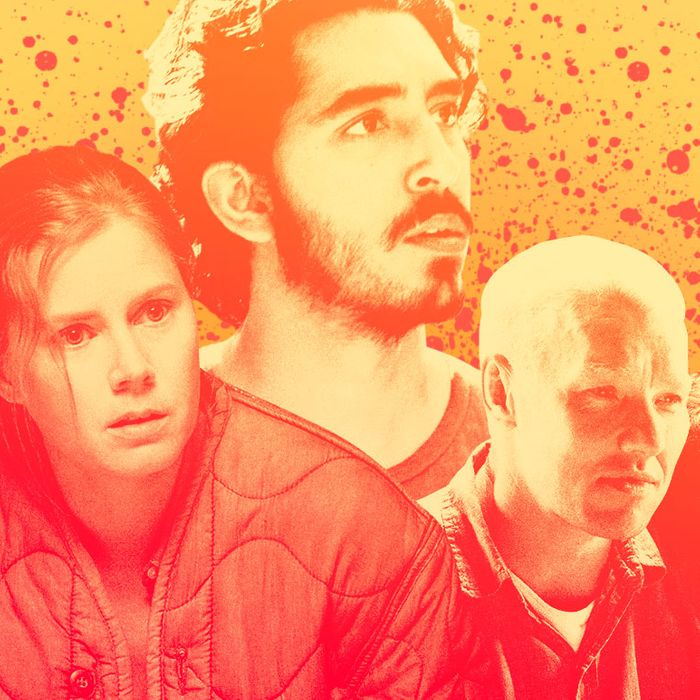 Will voters turn to Arrival, Lion, and Loving this awards season?
Photo-Illustration: Maya Robinson/Vulture
We're now a month out from the moment when Donald Trump became our president-elect, and it would be foolish not to account for how that seismic shift of context may affect this year's other way-too-long, potentially insanity-inducing campaign: the Oscars race. Over the past two weeks, we've finally gotten a temperature of the film community's post-election mood, via a spate of movie awards that both sway the opinions of the Academy, and reflect them — and it looks like our friends in the arts are ready to jump into the fire of socially relevant, emotionally taxing content rather than run away from it.
"How am I feeling in the Trumpocalypse?" said John Leguizamo at last week's Gotham Awards. "It's weird, because you want to escape it, but [watching] anything that's too light and silly, I get really bored by it because I'm so worried. Superficiality only makes me worry more! It's got to have a little political something to it. It's got to have enough gravitas to get me the fuck out of this realm."
How much gravitas? The Gotham Awards, the first ceremony of the season, brought a triumph for Moonlight, a lyrical depiction of growing up poor, black, and gay in the slums of Miami. Two days later, the National Board of Review named Manchester by the Sea, a story of family and crippling loss in a small New England town, as its best film of the year, while awarding Moonlight best director and best supporting actress. Both films picked up three awards each from the New York Film Critics Circle (while La La Land took best picture), and on Sunday, Moonlight positively wiped the floor of the Los Angeles Film Critics Association Awards, winning four honors including best picture and best director. According to representatives, voting for all of the above took place after the election.
Box office has certainly reflected the trend; Moonlight had a nearly 40 percent jump in ticket sales the day after the election, which grew even bigger as the movie expanded into wide release. Director Barry Jenkins told me, at a lunch for Moonlight held at Manhattan's Explorers Club, that he's also seen a notable increase in the number of people who've reached out to him with fervent thanks on social media. "I do think that people are seeking out things that remind them of what's possible, that diversity is this thing that we should embrace, that we should have empathy for others." He also pointed out that none of this was planned: Moonlight just happens to addresses people's post-election emotional needs, at the time they need it. "In the post-election world," he said, "I think people want to see that we're all connected. We're all human beings and we're all going through the same shit."
Moonlight's Mahershala Ali, who's won every supporting actor award so far and is the Oscars front-runner by far, adds that nothing about the film has changed since the election. "But if the reaction has changed, it's because suddenly people feel like they're on the outside, like they're away from center," Ali explained. "I think that's a real connecting point for the audience, post-election." More people seem to be approaching him on the street, but when they try to talk about the film, they can't. "You can see clearly that this person needs to hug you because they're gonna break down crying," he said. "We didn't have any clue that this project would resonate with people to this degree."
All of this good news for documentaries, which naturally fulfill the appetite for substance. It seems telling that Ezra Edelman's eight-hour O.J.: Made in America, which many worried would be discounted for its TV origins, has swept early awards and is now the runaway front-runner in the doc category. It's politically meaty, an epic achievement, and digestible in chunks over several days, which is how many of us want to be consuming culture right now. (Plus, if you spend that much time watching something, of course you'll remember it when the ballot's in your hand.) Sadly, though, it seems as though Weiner, that fascinating, can't-look-away portrait of the politician's implosion, may suffer from being too relevant to recent events, given its subject's direct connection to the FBI's "October surprise" announcement about Hillary Clinton's emails. As Leguizamo explained, "Weiner was basically the guy who put us in this mess. I've heard it's great, but you can't watch that now. I've got to give it a little more time."
Anecdotally, I've noticed post-election enthusiasm bumps for Arrival, which is essentially a sci-fi movie about our fear of outsiders, as well as a plea for global cooperation; Lion, also about global connectedness, and the plight of a lost boy from India; and Loving, about the interracial couple whose fight to be married ended up changing the law. All had mixed, and even tepid, receptions at film festivals earlier this summer and fall, in contrast to the almost rapturous way I've heard people talking about them now.
At a tea for Loving at Manhattan's Lotus Club, director Jeff Nichols told me he's noticed a stark difference in the way people talk about the movie with him after the election. "People are coming up and saying, 'We really need this right now,'" he said. "People said that before, but there seems to be a little more intensity to it." Audiences tend to project themselves and their beliefs onto the screen, he noted, but that seems to be happening more frequently with Loving. "I think because all of the politics are so heightened outside of the theater, a lot more is being brought into the theater," Nichols said. "We always knew that the film would have social and political relevance, and that seems emphasized after the election. People are really searching for meaning in all of this."
Ruth Negga, star of Loving and a strong best actress contender, feels a new sense of "urgency" in the way people talk to her about the movie. "It's like a need, a lovely sort of graciousness in people's response, mixed with a certain panic. 'Have we lost those values? Are they going further and further away?'" she said. "I can only describe it as an an appetite, a thirst, for relief and goodness in our lives. Because I think the level of despair now, it's not just an existential one. It's a very tangible, solid one that has scared people more than anything that I've experienced in my entire lifetime. It's not just imagining the wolves at the door. They're probably there."
So where does that leave La La Land, Damien Chazelle's big, escapist technicolor musical about Hollywood dreamers — and presumed Oscars front-runner? It's very much still in the picture. The New York Film Critics Circle named it best picture, and the Critics Choice Awards gave it the most nominations, with 12. Manohla Dargis thinks it could lift up this country the way watching Ginger Rodgers and Fred Astaire did in the Great Depression. Most pundits, including my colleague Kyle Buchanan, still think it will win, like so many other movies about the power of making movies. (See: The Artist, Argo.) It's the movie that most of my friends want to know if I can take them to see. One reporter I know said that of all the screeners that his co-workers ask to borrow, La La Land is the one with a ten-person waiting list.
It's worth noting, though, that Moonlight and Manchester won enough down-ballot awards at the NYFCC, and got enough Critics Choice noms — ten each — to make it clear that this race is extremely close, and that  La La Land's relative absence from earlier awards may be due to its $30 million budget making it ineligible for many of the indie film honors that Moonlight has won.
To stretch out this post-election analogy to an absurd extreme, this Oscars race is like a face-off between films favored by your friends who are posting Facebook how-tos about calling your representatives, and those enjoyed by your friends who have quit social media to spend the next four years bingeing Gilmore Girls. Right now, it feels like the activists, the Moonlight and Manchester people, have the momentum. Maybe that's just the view from the bubble. Maybe it's a mood that won't last till February. And maybe people are underestimating the enduring appeal of a beautiful song-and-dance show. But then again, maybe La La Land was only the presumptive winner in that faraway world when everyone still respected Nate Silver. If there were ever a time to question the conventional wisdom, and to watch for the rise of two little movies no one could have predicted would get this far, this is it.
This post originally included mention of several critics resigning from the organization that hands out the Critics Choice Awards. However, the critics who resigned were television critics, whose choices did not affect the film nominations. Vulture regrets the error.
Below, listen to Vulture's Kyle Buchanan and the Frame's John Horn discuss how Donald Trump shook up the Oscars race on The Awards Show Show: