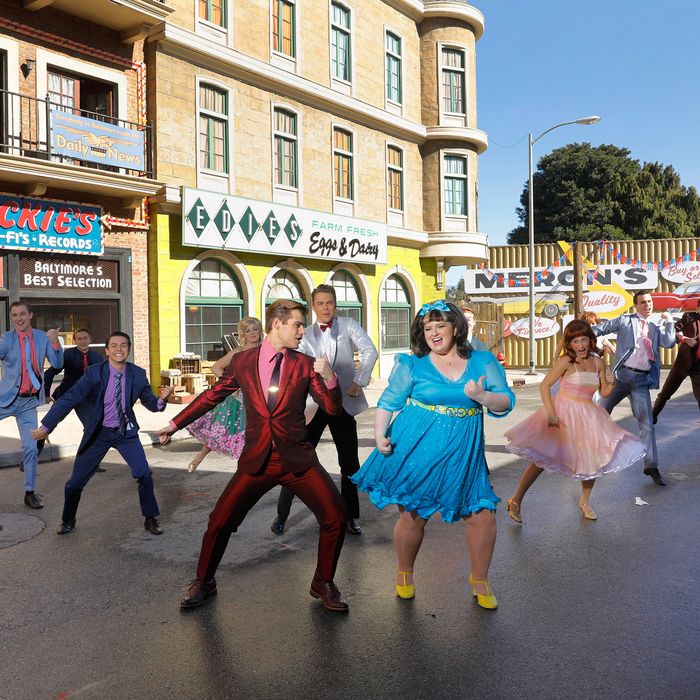 Garrett Clayton, Derek Hough, and Maddie Baillio rehearsing Hairspray Live!
Photo: Trae Patton/NBC
When I spoke to Jerry Mitchell during a break from rehearsals one recent night, the choreographer of NBC's live production of Hairspray sounded busy. Very busy.
"I have 350 crew people out on the back lot. We were doing the opening number, 'Good Morning Baltimore,' and we literally have three hours to block it," he explained. "There are five different pieces of moving scenery, 18 trucks and cars. We're timing the crisscrosses so we don't hit any dancers in the middle of the street. And I think there are ten camera operators."
Hairspray Live!, NBC's fourth live musical since 2013, will premiere Wednesday at 8 p.m. The 1988 John Waters movie of the same name became a Broadway musical in 2002, which in turn inspired a movie remake in 2007, which now finds itself reinvented for television. Through the decades, the central plot has remained the same: a plucky, plus-sized teen dances her way into the ensemble of a local American Bandstand–style TV show in 1962 and fights racial segregation in her native Baltimore.
Cast members — among them Harvey Fierstein, Jennifer Hudson, Ariana Grande, Kristin Chenoweth, Martin Short and 20-year-old newcomer Maddie Baillio as protagonist Tracey Turnblad — will race between the Universal Studios back lot and two soundstages on golf carts to hit their marks throughout the show, which, did I mention, is live?
But Mitchell isn't feeling the pressure. "This is what we do," he said. "It's never about it being perfect. It's about making it perfect. The opening number was a mess the first time we did it. But two and a half hours later, it's looking pretty good to me."
His confidence is justified. The two-time Tony winner and eight-time nominee isn't just responsible for the choreography of two currently running Broadway musicals, On Your Feet! and Kinky Boots (which he also directed), he also choreographed the original Broadway production of Hairspray. He's even a veteran of the uniquely nerve-racking pandemonium of live television, having spent seven years working on The Rosie O'Donnell Show.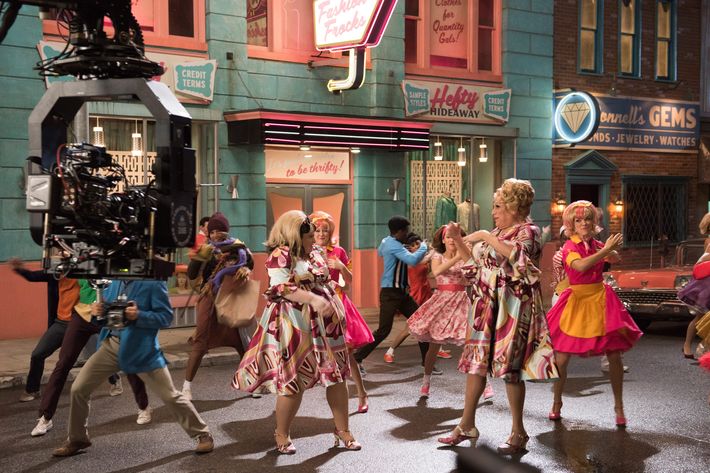 "Once she went live, even if something went wrong, you had to keep going," Mitchell said of the long-running daytime talk show. Once, they put together a musical send-up of ER for sweeps, "ER Guest" (as in "Be Our Guest"), complete with an IV of Yoo-hoo, Rosie's favorite drink — except that the prop department hadn't really pumped the drip full of that mysteriously non-dairy chocolate beverage. Instead, unbeknownst to O'Donnell (who'll play a gym teacher in Hairspray Live!), they'd opted for brown paint.
"She took the straw and sucked on it and the paint went into her mouth," Mitchell recalled, but the show nevertheless went on.
Needless to say, coordinating the movements of dozens of cast members for a live spectacle on network TV represents slightly more of a logistical challenge than a Yoo-hoo IV — and, Mitchell acknowledges, even more of a logistical challenge than the same musical's stage counterpart.
"When we did 'Welcome to the '60s' on Broadway, the cast had to go 20 feet across the stage. These dancers have to go across an actual street. And they have to zigzag it, back and forth, in heels, chasing a hot-dog cart. It's crazy what I'm asking them to do, but they're such incredible dancers," he said. Mitchell estimates that a typical Broadway musical might call for 200 crew members; by comparison, NBC's Hairspray will come together Wednesday night with the help of well over 1,000 people.
In the face of all that chaos, Mitchell's plans for the show's opening night (which, of course, is also its closing night) are surprisingly Zen. You won't find him backstage, because he'll be watching the broadcast from "a quiet room" with director Kenny Leon, where both men will rest assured that they've done everything they can.
"We'll have run through the show four times by then," Mitchell explained. "It'll be like our final run-through, but this'll be the one."
So what will be going through his head, two minutes out? "I think I'm going to be really emotional in a major way," he predicted, and not just because of his friendships with his collaborators and his personal history with Hairspray — but because its message of acceptance resonates now more than ever.
"The show means so much to me," he said.