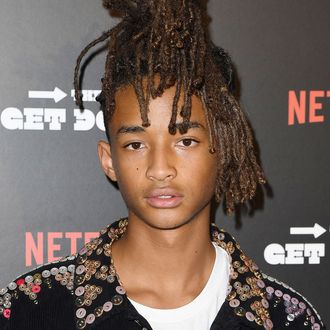 Photo: ANGELA WEISS/AFP/Getty Images
So that explains it. According to noted tweeter Jaden Smith, he's actually taken on the role of a lifetime: a Hollywood Chris. The 18-year-old announced today that he is actually Chris Pratt. Not the Chris from Captain America. Not the Chris who cried during the Oscars. Not even the Chris whose brother is dating Miley Cyrus. Smith has declared that he is Chris Pratt, the one who is about to go on an epic Nancy Meyers–style space date with Jennifer Lawrence, a love story underscored by a very epic Imagine Dragons song. That's the Hollywood Chris Jaden Smith has been this whole time.
Chris Pratt has yet to comment on the revelation that he has, in fact, been played by Jaden Smith all these years.