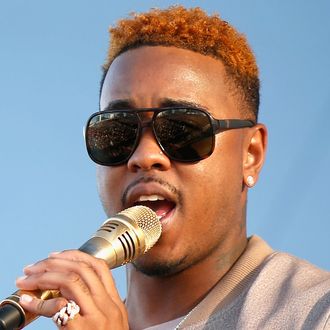 Photo: Isaac Brekken/Getty Images
Let it be a lesson to us all: Most people do not like it when you call them a "bitch ass" on a hot mic in front of a live audience. Pitchfork reports that Live Nation has removed Jeremih from PartyNextDoor's Summer's Over Tour effective immediately. The concert giant did not specify exactly why the singer was pulled, but the decision came following rumors of alleged in-fighting over Jeremih's desire to share headliner status with PartyNextDoor, as well as a pattern of odd behavior. For example, fans at the tour's Houston stop allege Jeremih sent a double to perform in his place. While in Dallas, Jeremih reportedly told the crowd, "PartyNextDoor and his crew are some bitch ass niggas. Now tell me that. Tell me what I said now?" demanding the audience "tell him to pay that fake-ass budget they've been pressing at night." Jeremih has yet to comment on the decision, but voiced his general frustration with the tour on Twitter this past week. "Truth is 'they' didnt want me 2 perform tonight … it sad people will take ur money and blatantly make it seem like I only want to do 2 songs," he tweeted on Wednesday. Live Nation has promised refunds to ticketholders in their official statement, which you can read in it's entirety below:
Live Nation's top priority is helping artists and performers create great shows for their fans.  With this in mind, we've decided it's best for the Summer's Over Tour to continue without Jeremih, effective immediately. After multiple incidents we are left with no other choice. We do not support these actions or take these actions lightly. Ticketholders may request a full refund at point of purchase, which will forfeit access to the entire show. No partial refunds will be issued.