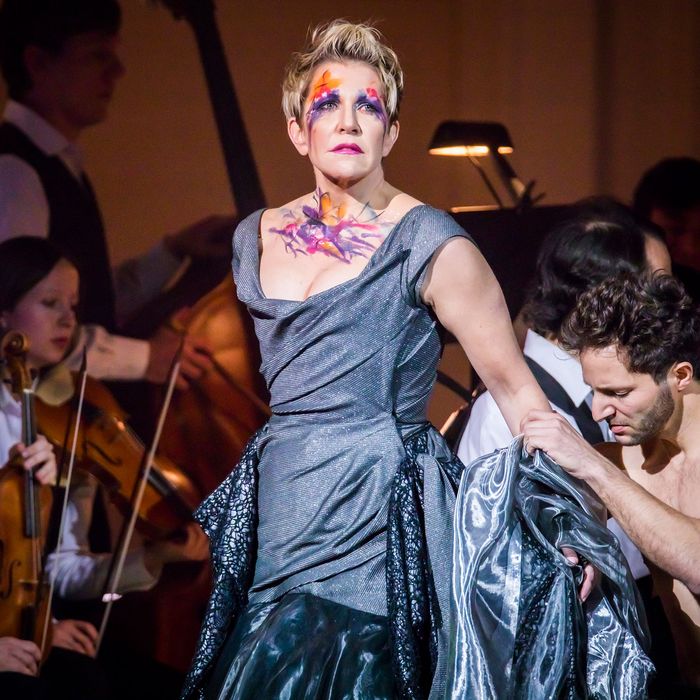 DiDonato onstage at Carnegie Hall last night.
Photo: Chris Lee
Mezzo-soprano Joyce DiDonato rolled into Carnegie Hall bringing music of war and peace and accompanied by an impressive road show: a baroque backup band, a dancer, a stage director, a rack of shimmering costumes, some projected video, a battery of colored lights. This one-woman spectacle and the new recording it promotes pose a question — In the midst of chaos, how do you find peace? They also proffer one possible answer: through music, specifically the music of Handel, Purcell, and others, as sung by Joyce DiDonato. She has reached a crest in her career that allows her to ask, rhetorically and without irony, whether listening to her makes everything okay.
It almost does, for a while. DiDonato can make a sustained note change color as if she were blowing on an ember, heating it white until it bursts into a flame of melody. At Carnegie Hall, she delivered bellicose arias ("Scenes of horror," from Handel's oratorio Jephtha) and tender ones ("Crystal streams from murmurs flowing," from his Susanna), inciting one moment and soothing the next. Her program mapped out an intricate emotional trajectory that progressed from rage to pity to giddiness, ending with an antique novelty, "Par che di giubilo," by the largely unknown 18th-century composer Niccolò Jommelli. That fiery portrait of joy that sends her voice flying up to the ornate plaster ceiling like a shower of sparks. For an encore, she switched eras with a silvery performance of Strauss's "Morgen," leaving an exhilarated audience with hope for another dawn on this "sun-breathing earth." The ensemble Il Pomo d'Oro (The Golden Apple), led by Maxim Emelyanychev, exhaled light and fire of its own, supporting the diva with crackling precision.
Secure in her powers and confident in the music's delights, DiDonato might have limited herself to a traditional format and still soothed every savage breast in the place. Instead, she aimed to make an argument and put on a dazzling show, goals that wound up undermining each other. Video waves flowed and leaves fell across the hall's back wall, a dancer (Manuel Palazzo) wove around the musicians, and at the end DiDonato reached into a pocket of her gown and found a fistful of rose petals to toss. The result was not as silly as it sounds — she is the rare diva who can share the stage with a buff, bare-chested young man in a long skirt and look like they're going to the same party. Still, the theatrics undercut the case she was building for music as a contemplative haven.
It's an idea that doesn't bear much probing anyway. Music, as complex as any other aspect of human existence, can be a powerful balm or a wan clatter in the distance, depending on the person or the moment. Baroque composers dealt with that multiplicity by dividing arias into a set of well-defined affects: ferocity, vindictiveness, desperation, etc. In her desire for emotional variety, DiDonato wound up showing that art has few expressive limits and plenty of practical ones. Song can communicate the ugliest and the most sublime human impulses, making them all glow with a varnish of musical beauty. And like a good but gory television show, Leonardo Leo's "Prendi quell ferro, o barbaro!" ("Take that sword, barbarian!") doesn't make you turn away from violence; it makes you want to hear more.