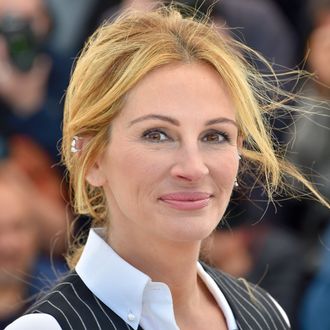 TV star Julia Roberts.
Photo: LOIC VENANCE/AFP/Getty Images
Like the elves at the end of The Lord of the Rings, all the big-name movie actresses are migrating to TV. And just like Amy Adams, Reese Witherspoon, and Meryl Streep before her, Julia Roberts has signed on to star in a TV show. Specifically, Roberts, who previously appeared in HBO's The Normal Heart, is doing a TV adaptation of Maria Semple's novel Today Will Be Different, which centers on a day in the life of TV writer named Eleanor Flood. Semple, who also wrote for Arrested Development, will write the adaptation. Today Will Be Different is the first TV series from a new initiative at Megan Ellison's Annapurna, a production company best known for films like Her and Zero Dark Thirty, which is also producing a film adaptation of Semple's Where'd You Go Bernadette with Cate Blanchett and Richard Linklater. Today Will Be Different hasn't yet found a network, so of course there's a chance we'll start talking about YouTube Red star Julia Roberts.