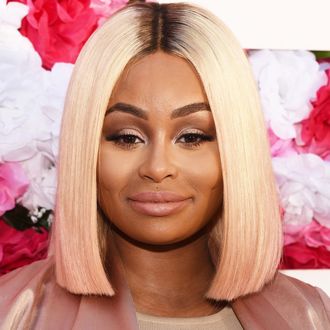 This shoud make for a fun Christmas.
Photo: Amanda Edwards/FilmMagic/Getty Images
Because holidays with the in-laws aren't awkward enough, the Kardashians are now legally attempting to keep Blac Chyna from using their last name for business purposes. Back in May, their future sister filed a trademark claim for the name Angela Renee Kardashian (Chyna's real name is Angela Renee White) to use for her personal brand and, you know, official declaration of her triumph. But, of course, Chyna and Rob aren't married yet, so despite being the mother of the Kardashian heir, she doesn't quite have the keys to the empire. Now the Kardashians are seeing to it that she never does: Three corporations owned by Kourtney, Kim, and Khloé reportedly filed paperwork on December 1 on their behalf to block Chyna's trademark of the Kardashian name, claiming that the sisters pretty much already own it. The complaint argues that because the Kardashian women have been using their famous name to promote their multiple businesses (their own lives included) for nearly a decade, it would confuse consumers to now have another Kardashian-labeled rival brand, family or not. According to E! (a.k.a. the Kardashian headquarters), "everyone loves each other, it's just business." Words Dream Renee Kardashian will savagely remind the Disick and Kardashian-West kids of in future lawsuits for the rest of their lives.