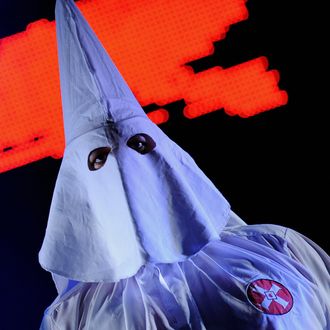 Photo: GREG WOOD/AFP/Getty Images
Last Saturday, A&E pulled the plug on their already-controversial, as-yet unaired docuseries Escaping the KKK: A Documentary Series Exposing Hate in America. The network released a statement at the time revealing that the show's production company, California-based This Is Just a Test, had given "nominal" amounts of money to the show's subjects "in order to facilitate access." Since paying hate groups violates the program's ethical ground rules, A&E was forced to cancel the entire series. According to Nate Thayer reporting for Variety, however, it now seems those payments were not so much a toll to gain admittance to the world of white supremacists, but allegedly payments to white supremacists in exchange for their performance in scripted scenes tailored to fit the series' overall conceit.
According to Thayer, who reportedly interviewed over two dozen of the docuseries' participants, "the KKK leaders who were interviewed by Variety detailed how they were wooed with promises the program would capture the truth about life in the organization; encouraged not to file taxes on cash payments for agreeing to participate in the filming; presented with pre-scripted fictional story scenarios; instructed what to say on camera; asked to misrepresent their actual identities, motivations and relationships with others, and re-enacted camera shoots repeatedly until the production team was satisfied." Members of several KKK-affiliated and white-supremacist groups claim to have received $500 and $600 a day from This Is Just a Test to take part in the show. Richard Nichols, one of the subjects of Escaping the KKK, told Variety, "We were betrayed by the producers and A&E. It was all made up — pretty much everything we said and did was fake and because that is what the film people told us to do and say." Nichols even went on to claim that the production company purchased supplies used in a staged cross-burning.
When asked about the allegations, A&E replied that it plans to conduct an investigation, saying in a statement, "A&E had already made the decision to cancel this documentary series based on recently discovered payment practices of the producers in the field and we are conducting a full independent investigation into the production." Meanwhile, This Is Just a Test suggests subjects are only now speaking out against Escaping the KKK after experiencing a backlash. "We take these allegations very seriously and in partnership with A&E we will be looking into them fully," they said in a statement of their own. "We have been told that participants in the series have received threats and coerced into speaking out against the authenticity of the show." This Is Just a Test is reportedly attempting to regain rights to the series in order to shop it to other networks.