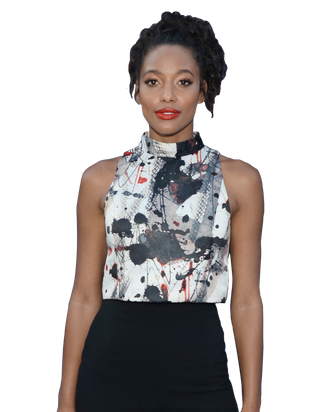 Kylie Bunbury brings a lot of heart to Pitch. In the first season of Fox's sports drama, Bunbury has proven herself more than capable of handling a leading role — she plays Ginny Baker, a young woman who struggles to balance her love for baseball, the demands of athletic fame, and the need to live a full life — and her strong performance has paired well with great work from co-star Mark-Paul Gosselaar, who plays Ginny's teammate and potential love interest, Mike Lawson. Heading into Thursday's season finale, Vulture spoke to Bunbury to find out how she prepared for the role, which athletes she most admires, what it's like working in a "golden age" of television, and how she would handle the future of #Bawson.
Has Pitch changed your appreciation for baseball?
I have completely fallen in love with a sport that I never thought I would fall in love with. I never knew how much of a mental game it is. It's mathematical; it's mental. I grew up in a soccer family. My dad played professional soccer and my brother played professional soccer, so I have always loved soccer. And I played basketball. I ran track. I never thought that I'd be playing a pitcher, but I absolutely love it. I think it's such a beautiful game.
How does Ginny's success relate to your own professional aspirations?
There are parallels happening. Obviously, Ginny's is on a whole other level, but I don't really know how to answer that because while I'm shooting, I'm just studying and doing my work so I'm not even cognizant of the parallels as much. I'm going on a lot more red carpets and I'm doing a lot more interviews and stuff, but I guess I'm just focusing on the work.
In a recent episode, Ginny freaks out and needs some time away from baseball. Have you ever had any moments like that?
Definitely. Definitely. I firmly believe everyone needs to have balance in their life. There were definite moments when I thought I was going to have a mental breakdown just because you're putting so much energy out. I was putting out so much emotion and putting out so much physically as well, and it's important to reserve part of yourself for yourself, so for me, it was difficult to balance doing press, the pitching, the acting, but also taking care of my own self and doing things like meditating and getting out into nature. I'm still figuring out that balance, but now I have the time.
The diversity and inclusion movement sweeping through television right now is remarkable. How do you feel about your place as a leading woman of color?
It's so beautiful. It really makes me emotional. It's such a beautiful thing. Doesn't it also sound so sad that it's just now starting to happen, that we're just starting to see ourselves represented? I just feel really blessed to be in this position. I'm a woman of color, but I have so many different cultures inside of me. My mother is Caucasian and my father is from Guyana, so I am sort of blanketing a lot of different cultures in this. That's the thing I think people are starting to realize when they're flipping through channels: Wow! We're all related. We're all connected. We're all relatable. It's an honor to be a part of a show that's showing a complex female that is a woman of color, that is strong, that had dreams, that attains those dreams, that is vulnerable. I just hope to continue doing work like that, showing all sides of myself.
Are you watching anything in particular? What's caught your eye on television right now?
The Night Of. Atlanta. This Is Us. I feel like we are in the golden era of television. I cannot believe what amazing content has been coming out. It's just so cool seeing all of us being represented. It's just so cool, man.
Who are some of your influences? Who are some icons that you study?
I have always loved Kerry Washington, obviously. Who doesn't? Viola Davis. Susan Sarandon and Diane Keaton are some of my favorites as well.
Everyone is trying to figure out what's going on between Ginny and Mike. If you were writing the show, how would you steer that relationship?
I would steer it very slowly. [Laughs.]. I think that first of all, they're teammates. And that really needs to be taken into consideration. If they do have feelings but they're still on the team together, I just don't think that's a road I would take them down, just for professional reasons. I also think that it's really fun to consistently tease it and not actually do it. I think as a writer, I would keep teasing it.
We get to see Ginny glammed up, but other times she's fresh-faced with natural hair. What message would you like young women athletes to take away from seeing these different sides of her?
It's not even just for women athletes. I think it's for any woman. The cool thing about this character is that she's a complex female character. You're getting to see all these different sides of her. I can be glammed up one moment and be in a sweatshirt the next, and it should be fine. Living courageously in your uniqueness is really important, just being completely yourself. I know that sounds really cliché, but just do what you want to do. That's what Ginny does. In terms of women athletes, embrace your femininity. You don't have to not wear makeup, if you don't want to wear makeup. It seems really silly to me that it's something that we have to discuss. And I don't mean by your question, but it is interesting that people are taken aback if a woman athlete gets glammed up. Why? Because she's an athlete? I don't know. It's just confusing to me. She's a woman and her job is an athlete.
What you wear to work is not necessarily what you'd wear out with your friends partying.
Exactly.
When you were studying baseball and professional sports, were there any athletes who stood out to you?
I did a lot of research on Serena Williams. I did a lot of reading in terms of baseball, about a lot of pitchers and baseball players in general. Randy Johnson is actually my favorite pitcher, but in terms of being a woman athlete, Serena Williams was the one that I did the most research on.
You and Avan Jogia have worked on two previous projects together — Twisted and Tut — and your onscreen chemistry always crackles. Any chance he can pop up on Pitch as a future love interest for Ginny?
It's so funny because any time either of us books something, that's what we say. We'll text each other: "Are you sure you're not on the show?" We always wind up being love interests together. I don't know. I haven't been able to see Avan's athletic side yet. We'd have to see his athletic side. [Laughs.]
What would you like to see happen in a second season?
I definitely want to see some sort of World Series. The main thing is, I want to get to know more about the characters. That's really it. I don't have any plot points. I'm not good at that. That's why I do the acting. [Laughs.]
Any hints about the season finale you can give?
Oh man, I don't want to give away anything. There's a lot of romantic drama and then there's also a lot of baseball drama. That is so broad, but I'm being serious. Romantically speaking, people are going to be shocked, I think.
What are some dream roles you'd love to play?
For me, anything that allows me to get to know myself more. Anything that allows me to stretch, deepen, and widen myself as a human being. I would love to do something that takes me on an adventure. I really want to do it all. I gravitate toward strong women, but the key in that is strong women are also vulnerable. So I would love to play a really vulnerable character who finds her strength. I'm down for anything.