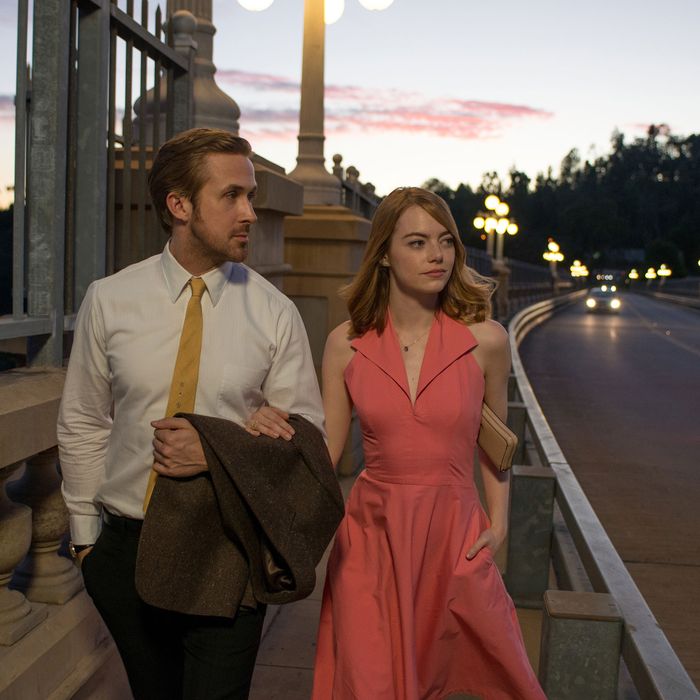 Ryan Gosling and Emma Stone in La La Land.
Photo: Dale Robinette
The Big Story
My colleague Kyle Buchanan currently has La La Land as the front-runner for Best Picture, a position it's occupied since it debuted at Venice in August. But while Moonlight and Manchester by the Sea are still potential threats to steal the ultimate title belt away from Damien Chazelle's musical at the Oscars, La La Land has at least managed to secure a different crown.
Opening in limited release this weekend, La La Land grossed an enormous $855,000 from five theaters, good for a $171,000 per-theater average. That's nearly a 75 percent improvement on the $103,685 Moonlight averaged across four theaters in its debut, previously the best number in this category so far this year, and almost triple Manchester by the Sea's $64,125 average from four theaters on its opening weekend. To put that debut further in perspective, it's the best per-theater average ever for the opening of a live-action awards-season movie, and the second-best for a live-action film debuting on multiple screens, behind only Wes Anderson's The Grand Budapest Hotel in 2014.
So what does this actually mean? Great question. Per-theater opening averages for limited releases tend to be a good reflection of a film's anticipation-level among the best-informed audiences: moviegoers in New York and Los Angeles who know exactly when these films are coming out and have to see them as soon as possible. That's why the work of folks like Wes Anderson, Aaron Sorkin, David O. Russell, Woody Allen, and the Coen Brothers tend to perform very well by this metric. But it isn't always a sign of Oscar glory, or even longterm box-office success: Last year's per-theater king, Steve Jobs, failed to nab a Best Picture nod and crashed in wide release; this year's third-best per-theater performer, Allen's Café Society, has been a low-key hit but won't come anywhere near a nomination. For La La Land, it essentially confirms what we already know: Chazelle's ambitious film is generating massive excitement among the most invested moviegoers. What will be even more interesting to see is what kind of appetite the American public has for a throwback song-and-dance extravaganza in 2016.
What Else Happened?
Very little. With the Rogue One tornado set to hit next week, Moana marked its third and likely final weekend at No. 1. Office Christmas Party debuted at No. 2 with a respectable $17.5 million. And most notably in the top five, Arrival continues to overachieve: In its fifth week of release, Denis Villeneuve's sci-fi film is still adding theaters, and its $5.6 million gross now puts it over $81 million domestically, a strong run for a film with a $47 million budget and a $24 million opening. Whether this performance will be enough to boost Arrival to a Best Picture nomination remains to be seen, but it certainly doesn't hurt.
Meanwhile, Nocturnal Animals expanded to 1,262 theaters and managed a solid $3.2 million, giving it just over $6 million to date, plus another $10 million overseas. Manchester by the Sea remains hugely impressive, adding a little more than $3 million from only 366 theaters. And Miss Sloane was a bust in its first weekend of wide-release — with just $1.9 million from 1,648 theaters, the Jessica Chastain gun-control flick was good for only $1,153 per theater, the latest in a string of inopportune choices for Chastain.